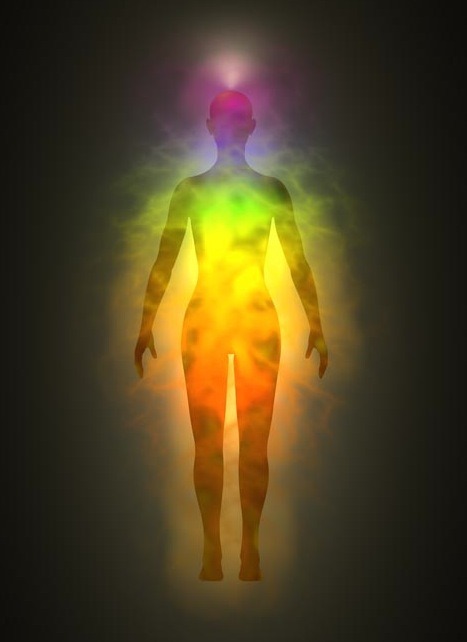 Everyone has an aura—the colors that portray the electromagnetic field that emanates out from the human body. Of course, every living thing and every object in the world also have auras, as we are all composed of particles of vibrating energy. In a person, the aura extends out about 2-4 feet from all sides of the body (as well as above the head and below the feet) in an egg-shaped field.
I teach how to sense auras and what the colors indicate about someone's feelings, thoughts, behavior, and health. Once trained, you'll be able to sense where imbalance exists and what needs to be corrected. Keep in mind that you can sense colors, using your whole body, and that "seeing" is less reliable than whole body sensing.
So what do the colors of the aura mean? There are some generalizations, but there are many gradients of colors, each with subtle differences in meaning. For example, the color red in the aura often relates to the life-force of the physical body, including the heart and circulation. We usually associate red with the first chakra, and indeed a deep red can indicate that someone is well-grounded, realistic, or oriented to survival.
Red is the densest of all colors, which means it can create the most friction, as in anger, anxiety, or obsessions. But look at the range that is possible: a muddied red can point to anger, while a clear red is powerful and passionate—just think of a woman who can carry off wearing a bright orange-red dress: she's confident about herself and her sensuality. If it's a bright and clear color, chances are that person has a healthy ego.
When red veers off into pink, new meanings arise. If the pink is light and bright, there may be a new romantic relationship happening. Or it can indicate clairaudience, artistic leanings, sensitivity, or tenderness. A murky dark pink, on the other hand, shows that the person may be immature or have a dishonest nature. A dusty pink can mean that someone is being "nice" instead of being "real."
Each of the colors—red, orange, yellow, green, blue, purple, as well as gold, silver, black and white, and earth colors—can change constantly, depending on your mood, what's happening in your life, and what you're up to at any given moment. Those who are trained to "read" auras have to have a lot of flexibility in their interpretations because different tones of the same color can have such different meanings. There is also confusion caused when someone else's energy is in the aura.
Be careful of believing what someone tells you about your aura unless you totally trust that person's abilities and integrity. It takes a lot of intuitive wisdom to interpret the colors of your aura.