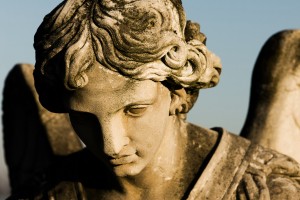 "I saw the angel in the marble and carved until I set him free."
~Michelangelo
Can you imagine having a powerful team of benevolent, all knowing beings whose mission is to watch over and protect you, and who are poised to provide divine guidance and answers in all areas of your life? You can – it's the archangels! I call upon them every day— I encourage you to get to know them too! Archangels are with you all the time: they're just waiting for you to invoke them with a prayer or plea for help.
Archangels are higher-level angels who supervise all guardian angels and angels upon the earth. You can call upon an archangel whenever you need them – they have no time or space limitations, so they're never too busy to help. Like all spiritual guides, they don't interfere unless they're asked, except in rare cases when your life is in danger. It's up to you to figure out which Archangel to call upon and to make it a habit to connect with them regularly. I urge you to pick a personal Archangel or two, you'll feel happy, safe and guided, as you go through the day in their company!
Which Archangel should you connect with? Let me introduce you to a few of my favorites:
Are you a healer, or do you need healing of the mind, body or spirit? You'll want to connect with Archangel Raphael and keep him close. I know I couldn't get through a day without him!
Archangel Raphael is the angel of healing – his name means "God Heals, or God has Healed." Raphael provides support and guidance to all healers, so call upon him and access his power to help others. He heals us from sickness and injury, as well as providing divine energy to our mental, emotional, and spiritual bodies. He also is gifted in the areas of physical and spiritual eyesight, clairvoyance, and finding lost pets. If you or someone you love is sick, lost or struggling, connect with him by invoking his emerald green energy, while picturing the ailment or area where you need his healing support.
If you are a student, or if you feel like you're at a crossroads and don't know which direction to go, you can call on Archangel Uriel:
Uriel means "God is Light or God's Light" and he's the angel you need if you're looking for clarity, information or help making a decision – large or small. Students and seekers commonly invoke this Archangel for everything from selecting the right answer on a multiple-choice test, to charting their life's course! Uriel specializes in illuminating situations, providing prophetic information and offering transmutation. You can tap into his guidance by taking a deep breath, picturing yourself completely enveloped in the color red, and thinking of your dilemma – ask him to guide you, and he will apply his divine wisdom to your question or dilemma!
If you're a writer, teacher or speaker, you'll find Archangel Gabriel an invaluable source of support in the area of communication:
Archangel Gabriel, whose name means "God is my strength" is the Archangel of communication and is also known as "The Messenger."
I call upon him whenever I am blocked in my writing or speaking, need a flash of inspiration during my radio show, or need help getting through to anyone. I picture his clear, white light and call upon his energy of communication and strength.
We all need protection from negative energy, along with strength to pursue our life's calling. Archangel Michael is always there to protect us and provide the energy of unconditional love just when we need it!
Archangel Michael: means "he who is like God." Michael is the Archangel of protection, guidance and strength.
In my healing and teaching work, I call upon Archangel Michael to surround me and protect me from any negative energy or darkness that is around me. To counteract the darkness, I ask him to channel divine love and healing to everyone around me. I also connect with him when I need a little extra strength, faith and determination to continue my work as an energy healer and spiritual teacher. To connect with Archangel Michael, I meditate upon my path as a healer and teacher, and visualize his bright blue energy as I ask him for strength and protection.
There are other archangels that I connect with as well – Ariel, whose name means "Lioness of God," is a feminine presence with a beautiful pale pink energy. I speak to her when I need to tap into my own Divine Feminine energy. Archangel Metatron is the "Angel of Life" and tracks our good deeds on Earth and in Heaven.  He supports me in my own spiritual growth and enlightenment, and gives me the strength to spread my light to others!
I urge you to call upon the Archangels. They have been an invaluable blessing and source of strength and guidance in my life. Take the time to connect with them, and let them guide you on your journey to higher consciousness!