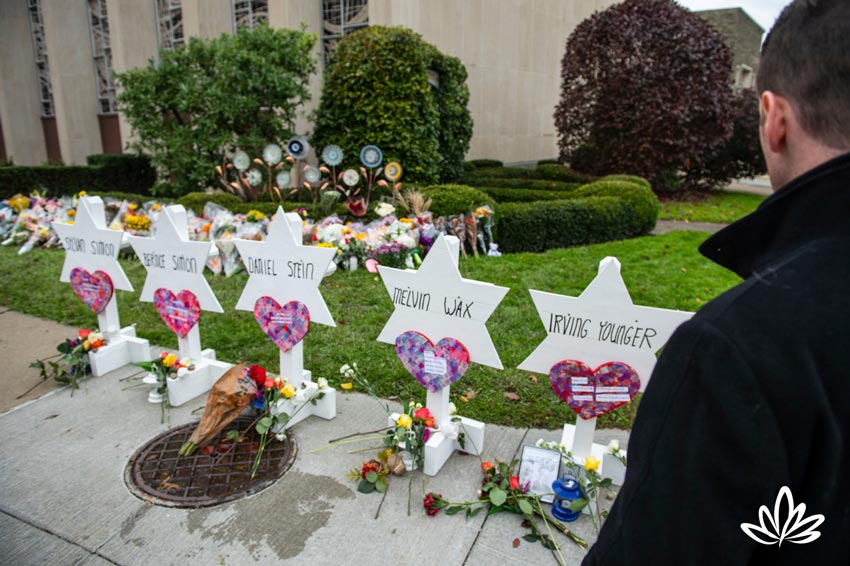 The time has come to take the bull by the horns and deal with a situation none of us likes and yet many don't know what to do about it. I'm talking about the difficult and dangerous rhetoric being spouted in every direction that leads directly to pipe bombs, assault rifles, and dead worshippers in a house of God.
As a spiritual teacher, I usually remain neutral, seeking the good at the heart of all. But we are headed down a treacherous path and it's time for each of us to take a stand, express our opinions, make our voices heard to try to save our country and those who live here. Those who are trying to get here to escape precarious conditions in their own country may find themselves facing military personnel bearing arms rather than the open arms of Lady Liberty.
Actions start with words, and these days civil discourse has all but died. In the past, there was an arcane concept called public debate, where opposing arguments were put forward, the matter was deliberated, with each side putting forth the best defenses of their position. Each side listened to and responded—politely!—to the other. The two sides might have disagreed, but neither party reacted with hatred and vitriol to the other. You could have a difference of opinion without being enemies.
Now we find ourselves in an era of incredibly nasty name-calling, horrific personal attack ads, and in-person physical attacks that are praised by those in power.
Politics and culture wars have become so divisive and destructive we've become untethered from our values. And it starts at the highest level of government, with a head of state who attacks the opposition—the opposition being anyone and anything that doesn't kowtow to him, doesn't kneel and touch the ground in submission. By labeling his opponents as evil, by mocking them publicly, by refusing to recognize the truth, by leading with fear and divisiveness, our so-called "leader" has inspired the violence we see today. He has inspired the unhinged folks who seek death to the enemy—whether that enemy is a politician, a journalist, or a group of brown-skinned women and children.
When the populace isn't well-educated, when reading has given way to sound bites and memes, when the country's "leader" speaks from the gutter, with no moral ground to stand upon, he gives the crazies all the permission they need to kill. It's a well-known fact that human beings imitate behavior and that is a key problem today.
Recently Chris Matthews, a political commentator on MSNBC, shared a story that got me thinking. He'd returned to his hometown in Pennsylvania for an event and had a chance to speak with a number of middle school teachers. What he learned was troubling. Teachers told him about how disrespectfully and hurtfully teens talk to each other these days, in ways these veteran teachers had never seen before. Even worse, these teachers bemoaned what happened when they called their students on such unacceptable behavior. They responded with a shrug of the shoulders and a chilling defense: "Everybody does it, even the President."
Our past presidents, red and blue, unlike this one, didn't encourage getting down and dirty by duking it out in the mud. Truth mattered and was valued by people on both sides of the aisle. Our cherished first amendment—freedom of speech, freedom of the press, freedom to assemble peaceably, freedom of religion, and freedom to petition the government for a redress of grievances—have all been shoved aside. Only one thing matters to this presidency . . . winning. Winning personal accolades, personal wealth, and unchecked personal power.
When politics is untethered from values, it debases all of us. When immorality, disrespect, and unprincipled standards are encouraged, when fiery words incite violence, when personal power is upheld at our expense, we are on the road to ruin.
So what can each of us do?
Right now, the most important thing we can do is to VOTE on or before November 6th. And we must align our vote with our core values to counteract the amoral standards being set before us as the example to follow. If we vote for candidates who support this kind of demagoguery (a demagogue is a political leader who seeks support by appealing to prejudices), we are condoning violence.
What else can you do besides vote? Encourage others to vote. Knock on doors for candidates you believe can steer us in a better direction. Volunteer to drive others to the polls. Talk and FaceBook and blog about your concerns. Don't hate on the opposition. Talk about what you like about the candidates you support instead of dumping on the ones you don't like.
Whatever you do, whatever your politics, seek the high road rather than the low one, and align your choices with your higher self.
If you're looking for endorsements, you've come to wrong place. Each of us will vote red or blue, yea or nay in the privacy of the voting booth, which is our right, our responsibility, and our privilege.
Last week's rash of pipe bombs, an act of domestic terrorism and political violence, the recent devastation at a Pittsburgh temple by someone who blamed Jews for that pathetic migrant caravan, are but the latest worst-case examples of why our private decisions in the voting booth couldn't be more important.
Let's vote for more light, a higher consciousness, and heartfelt consideration for all. But above all, vote!