Have you seen the photo of the FLDS spiritual leader, 51-year-old Warren Jeffs, cradling in his arms and deeply kissing — and we're talking about a "wedding"-type kiss here — a then twelve-year-old girl?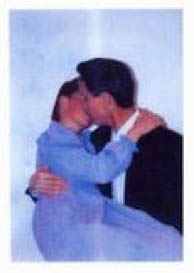 The photo was introduced on Friday in the custody case of an infant born two weeks ago to Louisa Bradshaw Jessop, and fathered by Dan Jessop, who is the brother of the girl Jeffs is passionately kissing. Maybe it was meant to jog the memory of the witness, Louisa, who responded, "I don't know," or "I can't remember right now," to nearly every question posed to her, including how long she'd been at the ranch and who lived in her household.
What did you think was happening in those big happy polygamous families? Anyone who's ever left the cult has written about their main religious belief — The Principle of Plural Marriage — and the abuse that it engenders. It's vitally important in the FLDS culture for a man to have at least a Quorum of wives (3 is the minimum) in order to enjoy the benefits of the heavenly kingdom; he really needs at least seven wives to be considered an important member of the priesthood and the community.
As for that kiss in the photo possibly being anything other than a wedding kiss? A man in FLDS can have physical contact with a female only if they are married. Period.
Judge Walther acknowledged that she'd been criticized for not allowing enough evidence to be let in during the initial hearing in April. With the Appellate Court's decision hanging over her head, she has announced, "We're going to have a full blown adversarial hearing. If it takes two to three days, we're going to do it."
I have a feeling this case is far from over yet.