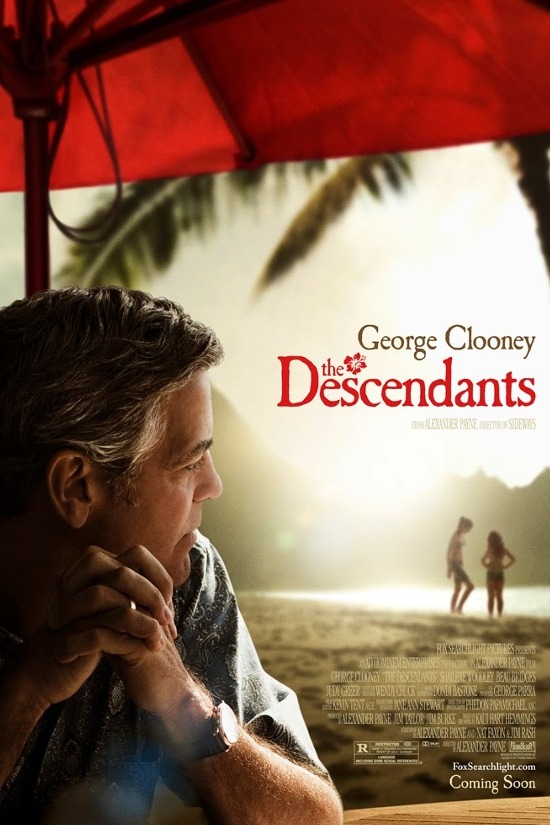 An unabashed movie buff, I have to admit I've seen 3 films in the past week, my first week home after 13 straight weeks traveling, and want to report in that The Descendants is the best of the bunch. Always good, George Clooney is great in this dramedy that is co-written and directed by Alexander Payne (think Sideways from '04 and About Schmidt from '02). The state of Hawaii is the co-star and setting – I've visited there many times and understand how Hawaiians feel a special love for their land and a need to protect it. The plot is built around Matt King's (Clooney) upcoming vote on whether or not to sell a vast track of unspoiled land his family owns to a developer at the same time his wife is in a coma from a boating accident.
The story is based on a novel by Kauai's Hart Hemmings, who is the daughter of a famous surfer and politician; we can guess that a lot of her can be found in the personalities and characters of Matt's two daughters who are front and center in the film. Query whether the illicit affair the daughters' now comatose mother was having before her accident is autobiographical or pure fiction.
The part you will love is how involved you will become with the characters, especially Matt, who really takes the high road throughout the film, and Sid, the boyfriend of one of the daughters, who has his own special moments of poignancy.
The Descendants is a film well worth seeing: despite its serious topics of raping the land, adultery and death, you will still leave the theatre feeling good. Matt's character is a testament to important disciplines like work ethic and living a clean, simple and thrifty lifestyle, but these values are presented in such a way as to be appealing. That in itself is a tour de force.
I'm sure this film is an Oscar contender – stay tuned for more on that as I catch up with all the films I've missed since last August that may also be in the running.