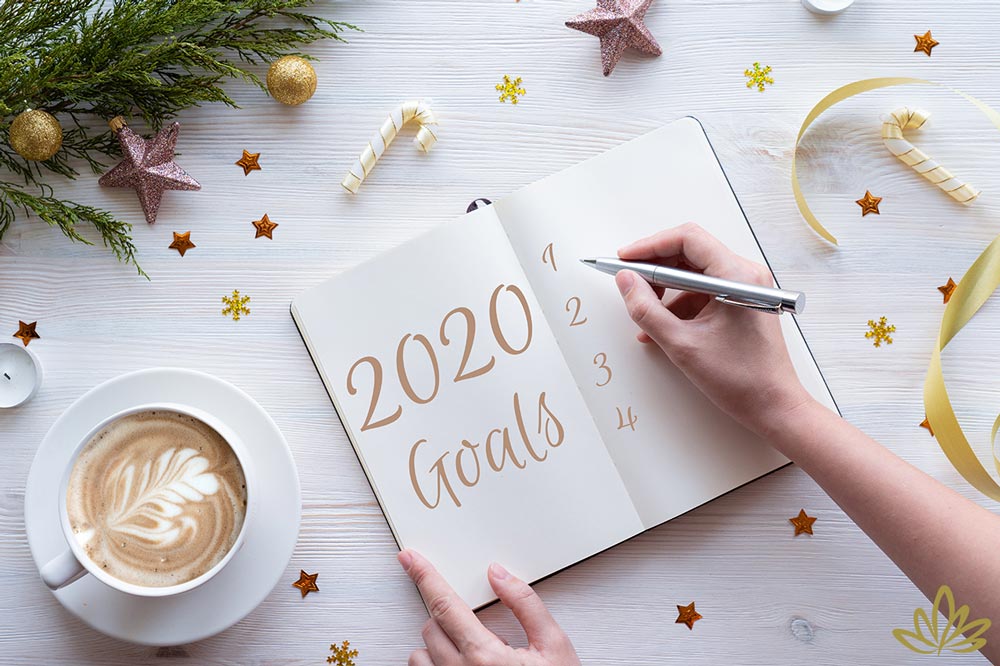 Bringing in 2020! With the beginning of this new year, you have been given a new start, a fresh slate, an opportunity to kick off the next twelve months of your life with hope, love, and healing. But New Year's resolutions may not be the best way to turn over a new leaf.
The Reason So Many Resolutions Fail
For many people, a fresh start involves making New Year's resolutions—goals or promises to yourself for improvements. Many common resolutions include losing weight, getting a handle on an addiction, saving more money, or moving up in your career. The problem is that many New Year's resolutions are externally motivated, arising from outside you – from your parents, or partners, or society, and are therefore set up for failure from the get-go.
Resolutions that are born out of a need to please others rather than being born from a deep desire for yourself are often not realized. How can they be? They don't reflect the true you. And yet, when you abandon them, the cycle of self-blame and shame makes you feel worse than if you'd never made any resolutions at all! Does that sounds like a good way to start the year—with a vow that is unrealistic from the start because it's inauthentic and only makes you feel worse when you don't meet it? You deserve better.
Focus on Intention
So this year, I'd like you to break the cycle of bound-to-fail resolutions and instead, make non-resolutions that are less about the end result and more about the journey. Rather than trying to plan goals, focus on intention. What is the reason behind the goal? That's what you need to pay attention to. When you are clear on what your purpose is—your intention—it's much easier to make decisions that support that purpose.
For example, let's say your resolution is to lose weight. When you make a resolution, it's usually a simple statement: "I will lose 20 lbs this year," without a crystal clear plan in place. If you use energy healing techniques to dig deeper and understand the emotions behind the weight gain, your chances of success increase exponentially. Thinking about why you want what you want, why it has not yet happened, and how you will move toward your desired result are essential for transforming yourself this year.
Here are a few ways to figure out what you want your intentions to be for this year and how to go about making those intentions a reality in your life.
Practice energy healing.
Energy medicine is the single best thing you can do for your emotional, physical, mental, and spiritual wellbeing. Energy healing expands your awareness, brings you into closer contact with Source and your higher self, and helps to clear your chakras and energy field of any negativity that might be causing you problems. (like not being able to lose weight) Energy medicine gives you the tools you need to get to the root of your problems so that you can address the cause of your bad habits, or the self-sabotaging or addictive behavior you'd like to change. Attending healing courses and working with a spiritual teacher is a great jumpstart to healing yourself, and journaling, meditation, and being of service are a few of the other methods of self-healing you will learn in energy medicine that will help you clear your chakras and reveal the real you. Uncovering the real you that lies underneath the expectations from others that so often color your resolutions is just one of a million life-changing benefits of practicing energy medicine.
Find your true purpose.
With energy healing, you will be more and more able to connect with your higher self, who intimately understands the deepest parts of you and knows your life purpose: the reason you incarnated in your body at this time. Your life purpose is the driving force within your soul, and lining up your intentions with your soul's plans is the best way to speed up your spiritual progress, heal yourself, and actually manifest your intentions. Try journaling about your true feelings, wants, and desires, writing down your most honest thoughts, and see if you can't discover an intention for the new year that comes from you and not from anyone else. Trust your intuition, which is from your higher self and your guides, the best source of guidance.
Consider adding rather than subtracting.
So often resolutions are about stopping something, which can feel limiting and may make you resistant. But adding something positive feels happy and fun, like Christmas all over again. Perhaps your intention is to lose weight in order to get in better shape so you have more energy to do the things you love, so try adding a walk after dinner each night, before TV time. Maybe you want to intend to be happier or more fulfilled, so try scheduling in one thing you love to do for an hour each day, or join a group of people who have similar interests.
Remember, do not feel bad if you "fail." You can't fail at trying! Or rather, failure is part of trying, it is a part of the process of succeeding, so when you intend to improve your life you aren't making a vow that can be broken, but rather a choice to move toward a new way of interacting with one particular part of yourself or the world. That simple fact gives you hope and decreases self-blame, and is why intentions are so much more effective long-term.
I hope you'll try intentionality rather than resolutions this January so you can enjoy a happier, healthier, more light-filled year ahead. Happy New Year!