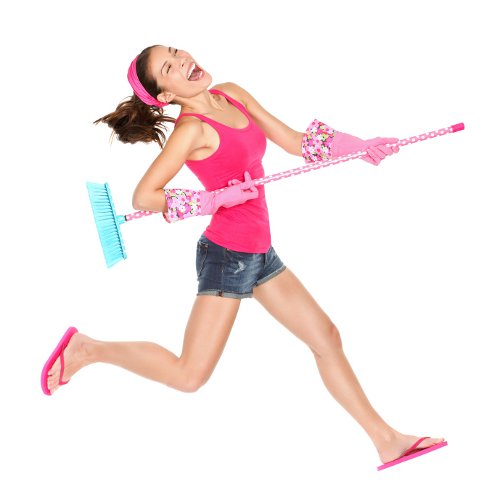 Dust off those cobwebs, it is high time for some spring cleaning! No, I am not talking about your closets (though they probably could use a good cleaning too) – I am referring to all that clutter you have in your mind! Are you living someone else's dream? Are your own priorities collecting dust, having been pushed to the back of your mind? Is your daily life not reflecting the world in which you wish to live? Are you stressed out? If you answered yes to any of these questions, then you are overdue for a good spring clean up!
Take advantage of your spring energy to clean your mind and set some new goals and boundaries for yourself following these 5 simple tips:
Start your spring clean up by tossing out the old!
Get rid of those old, tired ways of thinking that are dragging you down. No more negativity, self-doubt, and self criticism. Stop yourself when you feel that familiar Negative Nelly creep up on you. You want to see and feel the new, fresh you and that person is the happy, nurturing, loving you! Let her come out and shine this spring!
Clean your mind from all those emotions that are dragging you down!
How often do you find yourself obsessing over "what could have been" or "what should have been"? These thoughts are holding you back from moving forward and healing. Let yourself experience them, then move on. There is no reason to dwell on the past that cannot be changed. Focus on the present and future! There is so much sunshine to be enjoyed!
Reconnect with the positive people in your life!
Healthy relationships are important and are one of the best ways to boost your mental health! It is a wonderful gift to yourself to stay in touch with friends and family who brighten your days and are a positive influence on you. You may not be able to help it if your boss is a Negative Nelly and causes you constant stress, but you can control who you spend your free non-working time with, so make a choice to clean your mind and surround yourself with positive energy!
Reduce your Daily Stress!
One of the best ways to jump-start your mental spring clean up is by making a conscious effort to decrease your stress and anxiety. What better way to do so than through daily meditation? Just 10-20 minutes twice daily will do wonders to create more harmony and balance in your daily life. You will find you will approach problems from a completely different angle and will be a much calmer, happier you.
Try Something New and Fresh!
It is good for you to step outside your comfort zone every so often and try something new and fresh. Whether it's making plans to take a trip to someplace you have never been (but always dreamed about going), taking a cooking class, learning a new language, planning a picnic with your family, or trying out a new local restaurant, making plans and activities that are new and exciting to you will make your life feel fresher and more stimulating!
Embrace these five simple suggestions to heart, and you will not only reinvigorate, but also clean your mind! You know how great you feel once you have cleaned out your closets and your drawers and reorganized your house?… Well, that wonderful, clean feeling can be echoed when you do a good spring clean up of your mind!