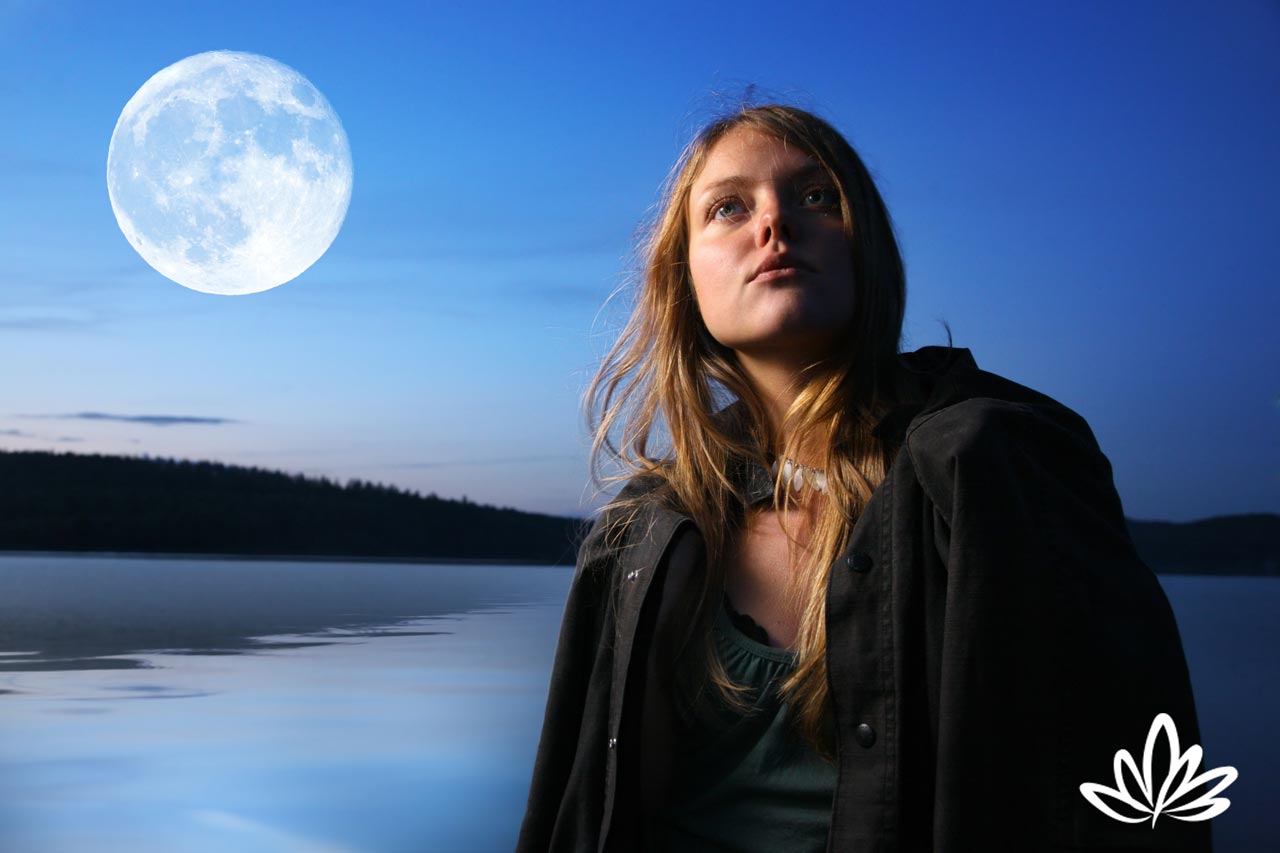 Looking for a sign to guide you toward greater spiritual awakening and growth? This coming Sunday, August 26, the night sky will present you with a powerful opportunity to be awed, inspired, and taken to the next level! The full moon this week is capturing your attention reminding you of the eternal cycle of change and transformation that you are a part of. Ancient cultures used the moon's movement to mark the seasons and guide their activities. You can use this same celestial energy to connect to your 8th chakra and above and to shine a light on your path.
Sit outside with as much skin uncovered to the moon as possible this week, to absorb its light. Then, this weekend, grab a blanket or sleeping bag and join me on your deck or in your back yard; this is THE month to sleep outside. Watch for falling stars, frequent in August!
What the August Full Moon Tells You
In Native American tradition, the August full moon is called "the Sturgeon Moon," "the Green Corn Moon," "the Grain Moon," or, for the Dakota Sioux, "the Moon When All Things Ripen." For tribes near the Great Lakes, the "Sturgeon Moon" marks the time when the large, prehistoric sturgeon fish is most plentiful and most easily caught. For all of us, the meaning of the August full moon is "plenty," a time when the life-giving essentials of the Earth come forth.
There are questions you can ask in this time "when all things ripen" to help you heal and grow in mind, body, and spirit. The concept of "plenty" has important spiritual significance. It has brought life to humankind from the beginning and defined our relationship with the Universe. What does faith in the "plenty" of our world mean? What we believe about the Source of our plenty and our relationship to Source and to one another guides our lives. Now is the perfect time to explore what seeds have ripened in your life this season, what is plentiful, and how you have responded.
Full Moon Beams Power
You can use the illumination of the full moon to cast light on inner things, to help you look at your inner world of emotions, worries and anxieties, dreams, and unconscious beliefs. You can draw on full moon energy to explore and evaluate your goals and your ambitions in the window of moonlight. Remember that full moon energy amplifies your emotions and magnifies what is going on within. Look closely and learn. You can use the following questions to discover what the August moon's promise of plenty means to you:
How do you define plenty?
For the Native fishermen of the Great Lakes, a bountiful catch of sturgeon signified plenty. Life depended on the gifts of the waters, the land, and the sky. What does plenty look like for you? Is it health, attractiveness, money, friends, career opportunities, achievements, faith? How does plenty make you feel and why?
What seems to be lacking in your life?
It may be that a sense of plenty escapes you. If you have a feeling of lack, try to determine what you think is missing. Do you see plenty somewhere other than where you are right now? See if you can find the origins of lack in your life. What exactly do you feel is "not enough"?
What has ripened for you in the current season?
Have you achieved a goal you were working toward? Did you set out to achieve something that has now come to you? If you have, how has it affected your feelings of plenty and/or lack in your life? 
How does it feel to be on your present path?
Your present life has grown from your past choices, hopes, dreams, and actions. Do you feel like your current path is the right one for you? Do you feel confident and inspired? If not, why not? How would it feel to revisit your choices? 
How have you shown gratitude for the plenty in your life?
Whether your heart swells with a feeling of plenty or you feel you could be on firmer ground, you have grounds for gratitude. The freedom, the energy, and the willingness to examine your inner self is something to be grateful for. Nothing empowers you like taking time to look within and seeing the gift that is your life. Make a gratitude list and be sure to include your power to recognize plenty and share it with the world.
Spending time with these questions brings comforting knowledge of who you really are and why you are here. Self-discovery brings peace, joy, and a sense of what is possible for you in the new span of days opening before you.
May the full Sturgeon Moon bring you a new sense of plenty and a new awareness of the miracle that is you. And may you be blessed with the radiance of healing moonlight on the evening of Sunday, August 26. See you outside next Sunday!