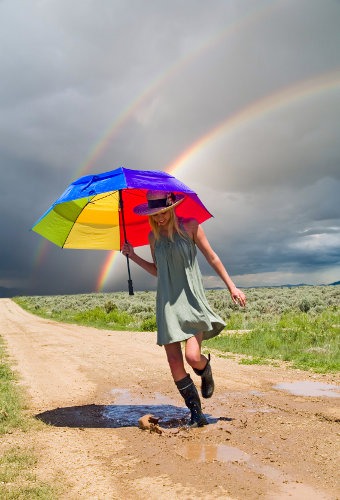 Are April showers making you blue? You are not alone. Many people experience a mood change when the weather changes. Grayer skies means less sunlight, and countless studies have demonstrated that a decreased amount of sunlight can incite melancholy and sadness. Your tendency on these darker days may be to stay in bed, watch endless hours of TV, eat comfort foods full of heavy carbs, and feel downright sluggish and sad.
Guess what? You don't have to feel that way on account of those pesky April showers! You are a positive, sunny, happy person inside and you have all the power to change your attitude and MAKE your day sunny no matter what color the sky is outside!
The change first starts with your attitude and perception. Do you want to wallow in sadness and feel lazy and unmotivated all day? Or do you want to reap the benefits of LOVING your life and enjoying each and every moment? There is absolutely nothing stopping you from being happy on a dark, rainy day.
Let's start with how you are looking at those April showers themselves. Rain is actually quite beneficial and important, because it provides the fresh water making our rivers flow, filling our lakes and keeping our plants alive and thriving. We cannot imagine our life without water. So perhaps instead of waking up to the sound of rain and thinking, "oh ick, it's a horrible day outside," you can change your perception and instead think, "oh how wonderful, my plants are getting nourished, the trees will be happy, and I am so truly thankful for this natural blessing." You may not be able to change the weather outside, but you can certainly change your feelings about it.
You can also busy yourself with healthy, positive activities that will feed your soul. Why not explore hobbies that will motivate, stimulate and sharpen your inner creativity? Have you always wanted to try painting, drawing, knitting, or scrapbooking? What about dancing, singing, playing an instrument, or even just listening to your favorite music? Or finding a comfy place to settle down and dive into that book you have been wanting to read, but never seem to find the time or space to do so? Anything that feeds your creativity, mind and expression will feed your positive attitude on a gloomy day. Positive activities can go a long way!
A rainy day is a fabulous day to write in your journal and add in some extra meditation time! Sip a nice cup of afternoon tea or take a long, luxurious bath. You can raise your level of self-awareness, reflection, and energy! Let the soothing sound of the rain calm your stress and help bring you to a peaceful frame of mind.
Feeling lonely and don't want all the solace and peace? Why not use this time to build your relationships? Try reaching out to a close friend or spending more quality time indoors with family members. A phone call with a loved one can do wonders to boost your energy and outlook. Or how about playing board games with your family and friends? You can find hours of fun entertainment that will lift your energy and attitude, and bring you closer to the ones you love — it's a win-win for everyone!
You can take advantage of the time indoors and be productive. You can tackle that closet reorganization you've been putting off or conquer that work research you were procrastinating. If you cross off one item from your usual to-do list (despite the April showers outside), you may feel better about how you spend the rest of your day.
Feeling adventurous? When we were kids, we were far more likely to put on our galoshes and run outside to splash in the puddles. When was the last time you jumped in a puddle and played in the rain?
It may surprise you how awesome and fun it is to let go and enjoy the blessings from the sky! And how free and happy you can be if you let yourself feel that way…You have the power to beat the blues brought on by April showers and make every day an enjoyable day filled with positive activities. And the best part is, you can tap into this power on snowy days, sunny days, work days, school days, any day…Try starting your everyday with this sunny attitude. Smile first thing in the morning. See what a difference that alone can make…
Interested in adding more serenity and calmness to your day? Go to https://deborahking.b.smartzsites.com/what-is-meditation/ for more information.