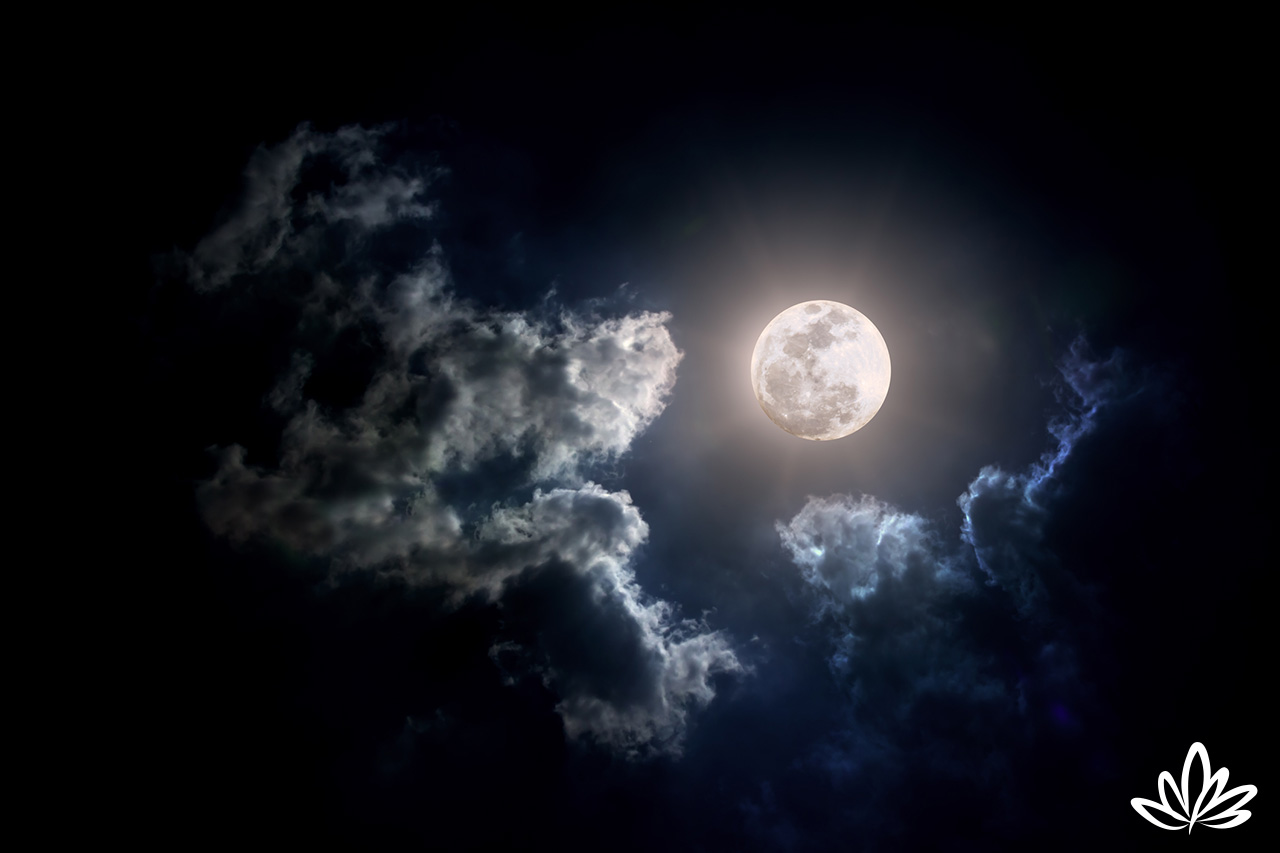 The moon is your ally…
Its size and brightness are immense (especially a Supermoon!) pouring out healing energy for you to soak up…
You can draw on its magnetic power — an awe that lights you up till you start shining like the moon herself.
The full moon is all about illumination — both literally as it brightens the night sky — and figuratively as it lights up different aspects of our personal and collective lives. It shines a light on what's been going on (which is why full moons can be intense), and it brings any intentions you set at the new moon to fruition.
And the energy will be especially strong because it's a Supermoon, when Luna is closest to the Earth, shining up to 30 percent brighter than the rest of the full moons this year!
This month (May 7-9) we will be treated to our third Supermoon in just as many months. And this Supermoon is in Scorpio…
Even if Scorpio isn't your sun sign (what people typically think of as their "sign"), we all actually have Scorpio somewhere in our charts — meaning you have a Scorpio part of you in some aspect. (In fact, we each have all 12 zodiac signs in our charts!)
Scorpio is often associated with sex, lust and power — but the truth is it's also about life-changing transformation, fierce protection, and deep healing.
And we could really use some deep healing right about now, yes?
We're certainly going through a life-changing transformation…
And, combined with the May moon which is known as the "Full Flower" moon because it marks a time of new blooms (new growth, new beginnings) this Supermoon is sure to bring you the added boost you've needed… or a kick in the pants?
So how can you harness the power of this month's full moon to get unstuck, heal what's been blocking you, and usher in deep transformation — for yourself and for all of us around the globe?
This Thursday through Sunday, May 7-9, you can draw on the healing power of the final Supermoon of 2020.
It's the perfect time to invite the change you've been seeking. Even if you don't know exactly what you need, the amplified power of the Full Flower Moon and the Supermoon and in Scorpio, will bring clarity and a surge of energy to move you to your next step.
It's also a powerful time to release fear and trauma, receive blessings, and invite your highest intentions to bear fruit in your life and our world…
There's an added dimension too. Vesak — the Buddhist (and for some Hindus too) celebration of Buddha's birthday — falls on Thursday's full moon.
During Vesak, Buddha is said to pour blessings over people gathered in ceremonies, and the blessings then flow to everyone everywhere, regardless of creed/country/status/etc.
Needless to say, this is a powerful and MUCH-NEEDED full moon!
Here are 5 Practices for Access the Healing & Transformative Power of the Full Flower Supermoon:
Tap Into the Wisdom of Your Guides
Draw on the effortless magnetism of this month's Supermoon, to access the wisdom and guidance of your spirit allies. Spend some extra time in prayer and meditation, using a journal prompt to guide your inquiry and reflection. Trust the answers and inspiration that come to you. Also notice the different symbols and signs that you see during your day. Maybe a message that catches your eye, a certain animal that comes to visit you, or a song that starts playing… open to the communication that is all around you.
Increase Your Meditation & Prayer Time
I recommend meditating for 20 minutes twice a day, with a mantra I choose for you. If I haven't taught you yet, here's a link to learn.You can use this contemplative time to receive messages from your inner guidance, spend extra time grounding and connecting to the creative and generative power of the Earth, and open to the opportunities being revealed before you.Your meditation and prayer time is also vital in helping every other sentient being on the planet. You can dedicate your practice time to amplify vibrations of higher consciousness raising the unified field around us. Our world needs healing right now, and by consciously sending healing intentions into the universal field, you are participating in this great healing.Meditating in a group can be particularly powerful too and be effective in raising our collective consciousness. (I am leading weekly guided meditation on Facebook Live every Thursday during the panedemic (except for this Thursday, where I'm doing an Open House), you can get the details and join here.)
Journal to Usher Your Ideas Into Being
Take some extra time this week to journal. To tap into greater creativity and messages from your intuition, try journaling with your non-dominant hand. You can also use this time to draw and allow your pen to be guided across the page and reveal to you words, signs, and symbols that can take on new meaning during this time.You can also take time on Thursday to journal about your deepest desires for your health and the health of medical staff, grocery workers, the elderly, the immune compromised, and all of humanity. Write to your Higher Self… your soul, asking for guidance. Record the responses you receive. Invite in the moon for her illuminating wisdom too.
Take a Healing Moon Bath
The moon is associated with water — the tides, women's cycles, motherhood, the womb — so every full moon is the perfect time to connect with the energy of water. Scorpio, too, is a feminine water sign.So on Thursday night, fill up your bathtub, adding lavender oil, Epsom salts, or your favorite bubble bath. Soak in the nurturance and surrender to the warm water, spending some of this time thinking positively about your deepest desires for your health and our Earth.. Thank the moon, too, for blessing us with her light, power, and healing presence.Or take a literal moon bath…
Especially if you live near a body of water, go outside during the moonrise, and sit near the lake, river, or sea and bask in the light of the moon.
Immerse Yourself in the Creative Arts
Poetry, stories, music… your creations will be supercharged with lunar energy and divine inspiration during this time.Even if you do not think of yourself as a writer or artist, surrounding yourself with art — and not just classic art forms, from kid's art to family heirlooms to beautiful vases to graffiti — music, an inspirational podcast, or powerful poem (ala Maya Angelou, Still I Rise) will help you access the transformative power of this time and receive messages from Spirit.Full Moons, especially the Full Flower Moon, is a time for magical energy too. Using crystals, adding a sacred bowl of water to your altar, even fresh flowers from your garden, will help activate your senses and stimulate the energy of this Supermoon.
To deepen these skills, and to learn more about healing the past, thriving in the present, and growing into the very best version of you, check out my course on LifeForce Energy Healing® here.