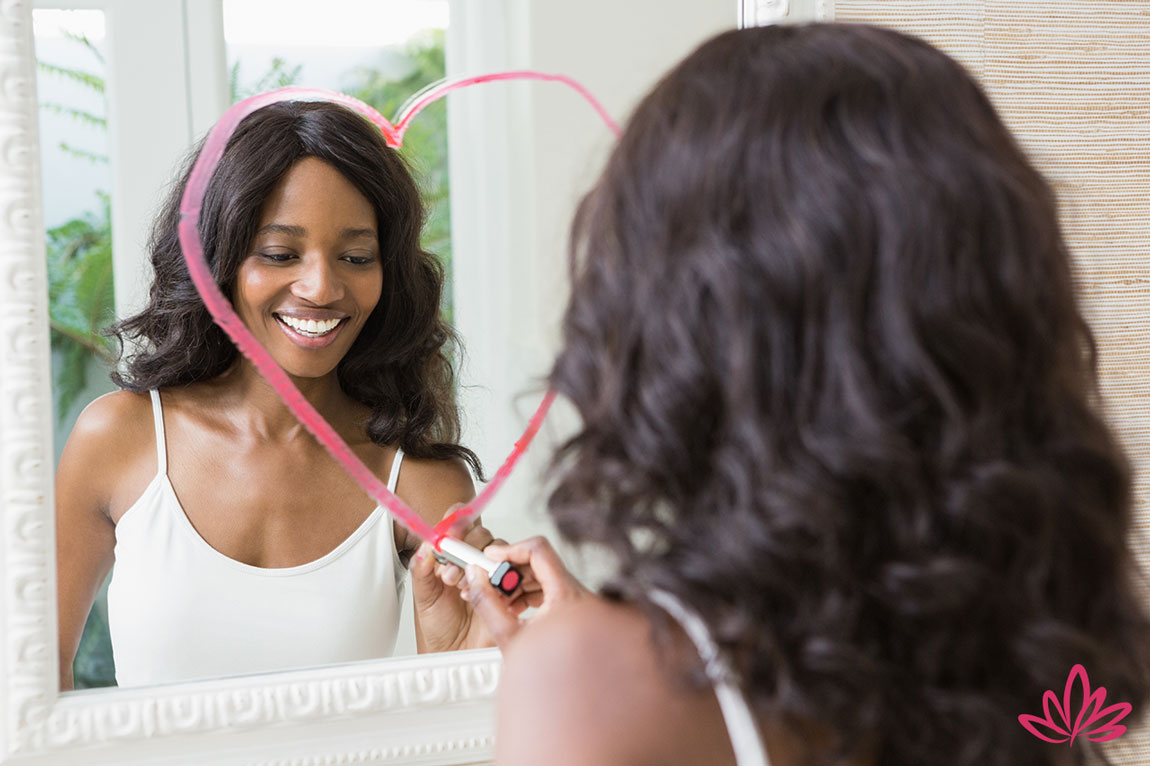 You have to love yourself before you can get into a healthy relationship with another. Feeling good about yourself and who you are is a vital part of finding the right person for you.
Let's look at how the process of love works in order to understand why loving yourself, or at least liking yourself, is important. When you initially meet someone, you want them to be enamored with you. You want them to think about you at least as much as you think about them; you want to feel desired. That feeling, however, will fade over time, usually much faster than you would like to believe. At most, initial infatuation lasts six months. The next thing we want from our partner is to be seen for who we are. It's no good having someone fall in love with something we're not; this dooms the relationship to failure. We want our partners to understand and accept us for exactly who we are. How, though, are they going to love you if you aren't being you?
Say you are a woman, and you meet a guy you like. You suddenly become a shadow of your real self in his presence, either stronger or weaker than you really are. The time will come, eventually, when he will discover that you are not exactly what you made yourself out to be. He will become disillusioned and may want to end the relationship.
This is one reason that men often have an easier time finding and keeping dates than women do. Thanks to their genetic makeup, men are much more likely to like themselves for who they are. They behave around a woman exactly as they would when they were alone, allowing women to see who they truly are with no illusions or any change of attitude.
Women are also pressured to look a certain way. In 2010, of the 21.7 million cosmetic surgical and nonsurgical procedures that were performed in the United States, over 90% were done on women – breast augmentations, liposuction and Botox leading the way. And plastic surgery is on the rise.
If you want to find the ideal partner, it is vital that you like yourself for who you are. Try these seven steps to feel better about who you are, making it easier to reveal your true self to someone you meet.
Respect yourself.  This is actually difficult for many people. We are living in a society where we are taught to give respect to others but are not generally encouraged to give ourselves respect. It is vital to learn to respect yourself and to know that you are worthy of respect from someone else based on your qualities as a human being, not on your worldly success or your appearance.
Set goals.  Setting goals is a great way to help you to feel better about who you are and to learn to respect yourself. You should have two lists: one for short-term goals and one for long-term goals. As you work on these goals and complete them, cross them off of your list. You will feel proud of your accomplishments and see that you are worthy of respect.
Let go of fear.  Fear is what keeps us from doing the things we enjoy. Fear is behind every attempt to cover up our real selves. We are afraid someone won't like us if they see who we really are. Letting go of fear is a process that is accelerated as we release our emotional wounds; that's one of the things I help people do at workshops.
Clear the energy from past relationships. If we don't clear the energy from our past relationships out of our personal energy field, the one that surrounds your body, that old relationship can slow you down or make you feel confused, unfocused, unhappy, lethargic, or even make you sick and toxic. I can teach you shamanic exercises to help you clear that old energy.
Stop criticizing yourself! Self-criticism never helps anything. Make a pact that you will no longer put yourself down. This will not only relax you but will also help you to look and feel better.
Love the body you are in. The pressure that society and the media put on everyone can make it difficult to feel comfortable in your own skin. Most of us worry about some part of our body being not right—our nose, our hair, our height, and especially our weight. In fact, as long as you are eating a healthy diet and getting enough exercise to allow your body to work properly, you should stop trying to be something you are not and learn to enjoy your body.
Develop your inner strength. Have you ever seen a young birch tree in a heavy wind? It bends. While harder trees crack and break, a birch tree sways and is still standing when the wind is done. This is because there is an inner core of flexible strength in the willow, which is what you should work on cultivating for yourself. Find that inner strength so that you can bend and sway with the changes in your life without breaking. We find our strength by uncovering and releasing the difficult emotions we have suppressed throughout our lives and seeing that living in our personal truth is the source of our true strength.
Once you like yourself, then you are able to enjoy a healthy relationship with another. Like all good things, it takes time to be able to truly like who you are, but once you do you will find that everything will change, even your relationships!