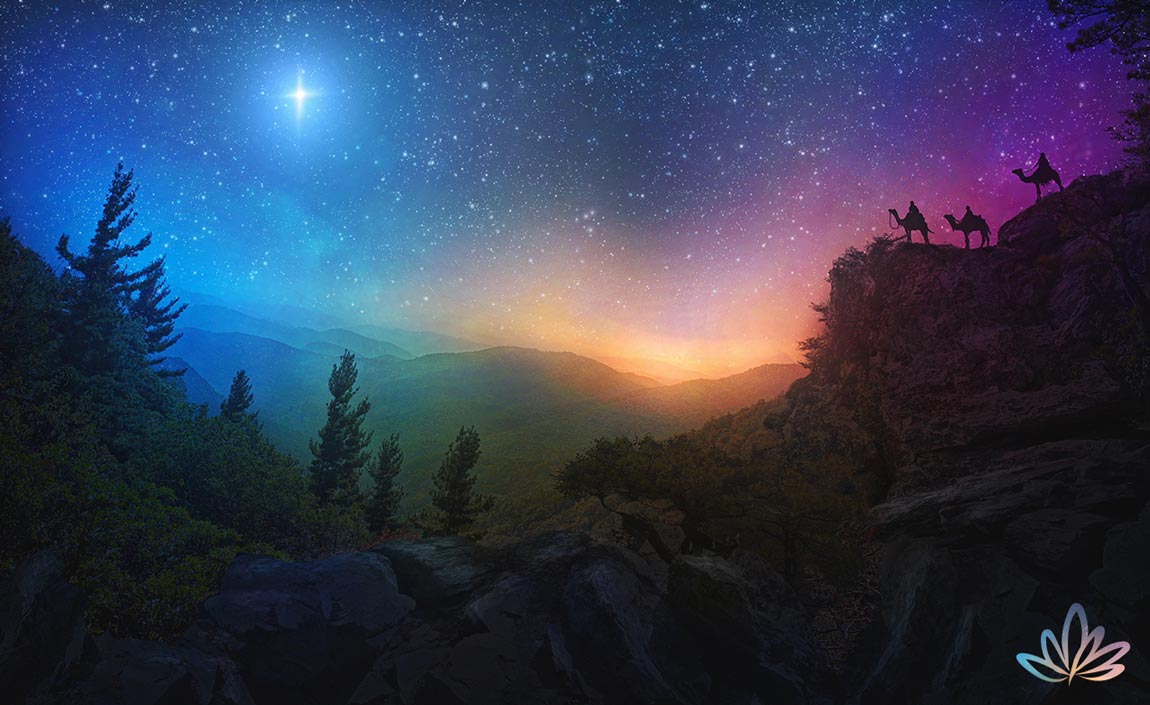 Hi Friends,
Today is January 5th – a day that many people around the world celebrate as Epiphany or Three Kings Day. For Christians, it celebrates the day that the 3 wise men followed an unusually bright star in the sky to lead them to Bethlehem.
Today, I want to talk to you about this star. More importantly, I want to talk about how stars can be our guiding lights.
It's not entirely clear what exactly the Star of Bethlehem was. Some suggest it was a supernova – the explosion of a very large star. Others say it could have been a comet. But one really neat idea is that it was the alignment of two planets in the night sky – so closely aligned that they appear to be one very bright star.
This is called a conjunction. And we just had a very great one last month.
On December 17th, 2020, Jupiter and Saturn aligned in the Southern sky so closely that it appeared to be a single star. True, in reality, they are two planets that are millions of miles apart, but to us on Earth, it appears as if two bright objects slowly combined together before drifting apart.
Isn't it sort of funny how these planets aren't even touching, but for us: they put on a dazzling show that won't be replicated for hundreds of years? I love to think about that. I love to think about how we have navigated by the stars, planted our crops by the stars, dreamt by the stars, and kept record of our stories by the stars. All the while, these stars exist so far away from where we stand, that it baffles the mind to comprehend.
We, here on Earth, are the recipients of the particular position and light that these stars cast. Nowhere else in the Universe do the stars look quite like they do on Earth at night.
Some might look at this reality and suggest that putting emphasis on these astronomical events is misguided – that it is only an illusion from our viewpoint on Earth. I don't believe that. Just because the Stars exist independent of us does not mean they don't serve as guides for us.
Think of the Sun. It rises in the East. If you wake and follow the Sun, you will walk East. It has guided you. Does the Sun exist solely to guide you? Doubtful at best!
It's the same as how the trees are dependent upon the Spring warmth to bloom. Without Spring, the trees will not flourish, but that does not mean the Spring exists solely to make the trees bloom.
This is how I felt watching the Great Conjunction last month. Yes, I know that these planets are fixed in their orbits, and that they are millions of miles apart, but they have created an alignment for us to view on Earth that is worth pausing and taking in.
And the one thing I kept coming back to is: what could it mean?
What could that Great Conjunction be leading us to?
All I know is that I felt an urging, a sense of profundity, and of connection when I saw that Great Conjunction. I am hopeful, therefore, that this union of the planets might foreshadow a union of two great forces coming together to make something brilliant.
What that brilliance might be? Well, perhaps you need to look to the stars to find guidance of your own.
The stars are out there, friends. They may be lifetimes upon lifetimes away, but their light shines on the Earth constantly. And I encourage you to look to them for guidance and support. Their light has granted many travelers safe passage over the millennia – and I know they'll do the same for you.
Trust in their light. It's the same light that the sun brings down on all of us – the light that provides warmth, energy, and life for all of us. Their light is affirming, and powerful. And if you're ready to take the next step to learn how to harness this majestic healing power of light and energy – the same energy that guides us from the stars – then I encourage you to join me on my transformative and empowering journey of Medical Intuition, where we'll learn how to read and heal with the powers of light, intuition, and energy.
Find your guiding light.
Deborah