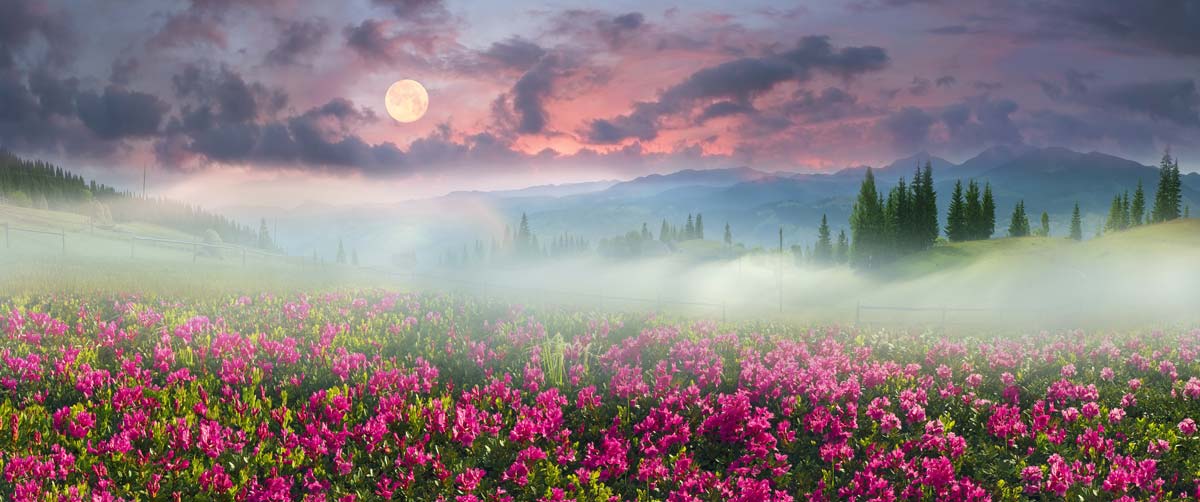 You may have heard that April showers bring May flowers. That's a lovely positive affirmation when spring is taking a little too long to arrive and the storms won't stop rolling through with showers that are white and icy! That is probably how we got the Native American's traditional name for the April full moon. The Pink Moon of April usually coincided with the appearance of blooming ground phlox, a stunning pink carpet of tiny flowers. Ah, Spring at last! This year's full Pink Moon appears on April 29, and with a little reflection, it might bring you a very special spiritual bouquet!
Think about how sweet it is to spot the first flowers of spring—whether they are crocuses peeking through the snow or daffodils, tulips, or hyacinth pushing up through the soil in your garden. The ground phlox that inspired the Pink Moon's name is a North American native whose meaning in flower lore is "harmony" and "sweet dreams." The first-blooming flowers of spring do bring a feeling of hope, sweetness, and the excitement of new possibilities. Which one is your favorite?
Bring yourself into the spirit of the Pink Moon with a nature walk in a spot you love. While you walk, let your eyes take it the details of the setting that make it unique. Are there any plants, trees, flowers, or rocks that you have noted in passing but not truly studied? Take time to look closely and focus on the light, the color, the shape, or the feeling of one or two familiar features. If you can find a flower, look inside—like modern artist Georgia O'Keeffe loved to do. (Watch out for bees and bless them for their vital work in pollinating the plant kingdom.) Try to really examine your flower's form and consider the complexity, artistry, and beauty you see. Are there any birds or small animals to observe? Could they be present with you right now for a purpose?
Take a deep breath as you enjoy the natural surroundings you have chosen to visit. Remember to give thanks for your senses of sight, smell, hearing, touch, and taste which allow you to experience the natural world on multiple levels. You are part of the natural world, too, part of the work of the creative universe. During the last few days before the full Pink Moon, think about ways in which you can make your life more joyful and purposeful. Each cycle of the moon marks the passage of time, and this Pink Moon marks the beginning of a new month and a new beginning for any dream or endeavor or developmental step you have been thinking about.
Here are three questions to consider as you prepare for the next step:
What do you know?
Do you know yourself deeply and truly? How would you describe yourself? What are your greatest strengths and abilities? Do you know the desires of your heart? Do you know what you really want to do? Do you feel that you know your life's purpose? Where do you want to go? How do you want to feel? Who and what do you love? What do you believe? What are your values?
What do you want to know?
If you know your life's purpose, do you want to know whether your present actions are taking you in the right direction? Or do you still need to discover your purpose? Do you want to know how to do something that interests you? Is there some knowledge or skill that you want to explore? What are the biggest questions in your life that you would like to answer? What are the biggest challenges in your life that you would like to face and find ways to overcome?
Who can you ask?
Where do you go to seek wisdom? How do you fill your need for spiritual guidance, fulfillment, and inner peace? Where do you turn in times of need? Who can you call? Do you seek help from the Divine—"Ask and it shall be given"? Do you rely on friends and family for solace? Do you have a tool kit of practices for comfort and healing? Do you call on the angels, guides from the spirit realm, spiritual teachers and counselors, sacred texts, or the energies of nature? From whence cometh your strength?
Exploring the answers to these questions helps you connect with your higher Self, and brings comforting knowledge of who you really are and why you are here. Self-discovery brings peace, joy, and a sense of what is possible for you in the new span of days opening before you.
May the full Pink Moon bring you a new awareness of the miracle of being you. And may you be blessed with the radiance of healing moonlight on the evening of April 29.
MORE ARTICLES YOU MAY ENJOY: