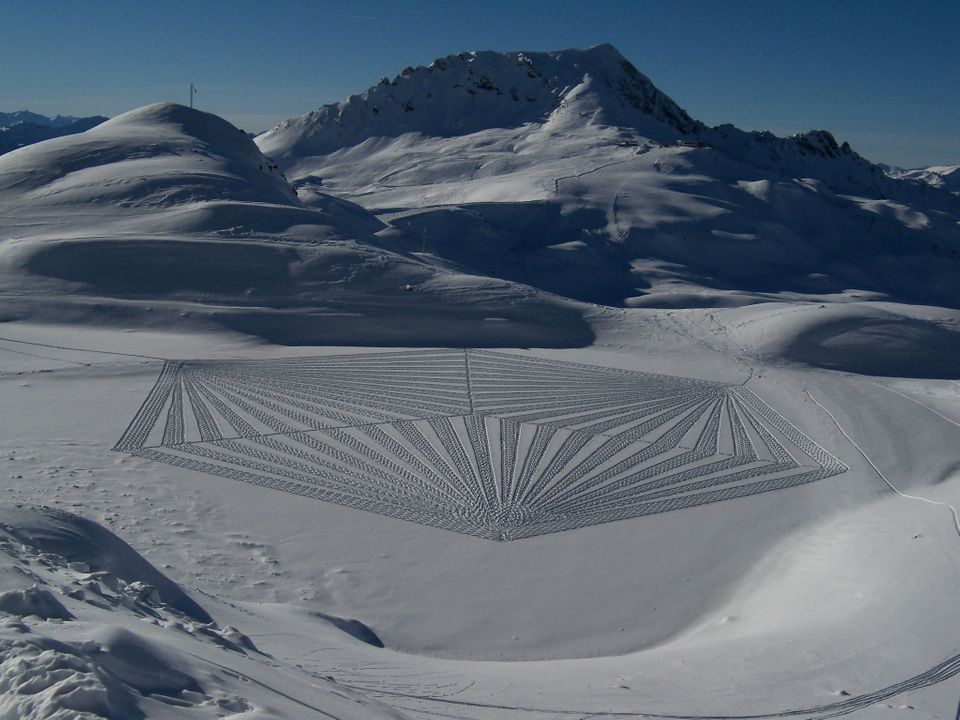 It was a cold, bitter day, many years ago, that I found myself walking through New York City during a snowfall. For those of you who haven't seen New York in a snowfall, it's beautiful for about ten minutes. Then it melts into a mudslide. Suddenly, there's brown and black mud-snow everywhere. Cars whoosh it up onto the sidewalks. Slurries pool at crosswalks, threatening to engulf any pair of shoes (and half of your pants) as you foolishly plunge in.
I didn't know this. But I quickly learned when a pair of my jeans went from indigo to khaki thanks to a speeding cab. And I was not happy. My energy field, in retrospect, became muddied, as I repressed these feelings of irritation. As I walked through the streets of New York, I found myself becoming more frustrated. Colder, wetter, dirtier. Not a hot chocolate or caroler in sight.
Fran Lebowitz on her new Netflix special said, "it would only take one subway ride to turn the Dalai Lama into a raving lunatic." Friends, I'm not proud to say it only took a few blocks walking to make me feel the same.
That is, until I happened upon Lincoln Center. I was walking up Broadway, battling the muck, when I looked to my left and saw a scene practically out of a snow globe. A perfectly framed plaza, covered in sugary snow, flanked by the ballet on one side, Juilliard on the other. Holding the whole scene together: The Metropolitan Opera, gleaming with its modernist arches and welcoming glass.
I didn't know where I was. I looked to my right, and all I saw was a streaming line of cabs, brown snow, and palpable anxiety. To my left: a pristine palace. I meandered on over, kicking my way through the snow, across the plaza and into a grove of trees, bereft of leaves. I looked down: where my feet had not yet stepped, the snow lay as pure as pristine powder. I looked behind: where my feet once were, the snow had been compressed. Compressed, but still pure and white.
I don't know what energy came over me, but I put my foot out, and began moving it across the snow. Slowly. Slowly in deliberate lines, I found myself weaving a geometric picture underneath the trees. A picture of a few interlocking triangles, then a star.
The drawings didn't stem from my conscious mind; rather, it was the pull of my unconscious that manifested onto the snow.
You've heard of the term mantra. Mantra refers to a word or sound that is repeated in meditation. What you may not have heard of is yantra. Yantra is a mystical diagram used as an aid in worship, ritual, or meditation. While the term comes from India, we certainly could use "yantra" to describe mystical symbols we create all the time. A drawing of the cross. The Star and Crescent. The Star of David. Magic Circles. When we focus our energy through these drawings, we augment our own energy as well, as tap into sacred energies beyond ourselves. The act of drawing and ruminating upon the drawing is ritual. It is meditation. Connection.
And that is what I was doing, moving my feet in the snow. I was drawing upon that clean, unvarnished energy to clear, charge, and balance my energy field that had been contaminated by my unprocessed emotions. I was channeling myself into this subconscious yantra: blessing myself, blessing the land, and giving thanks to this respite in the middle of Manhattan.
The snowfall quickened as I finished my design, and even the prettiness of Lincoln Center couldn't thaw my frozen fingers, so I bid adieu to the plaza, and headed back uptown to my hotel.
As I walked away, with the snow quickening, I couldn't help but wonder, "would anyone happen upon my drawing?" If they did, would they appreciate it? Would this design grant them the same serenity that it had granted me?
Or, perhaps, would it be best that it be covered with new snow and washed clean again? Would it be best that it be returned to a blank slate so that another weary traveler could marvel at the unexpected grace of an undisturbed block of New York in snowfall?
Give thanks for the unexpected. Embrace the energy of a gift freely given. Plant the seeds of another for a stranger.
Be the snowfall in a forest. Be radiant. Be peace.