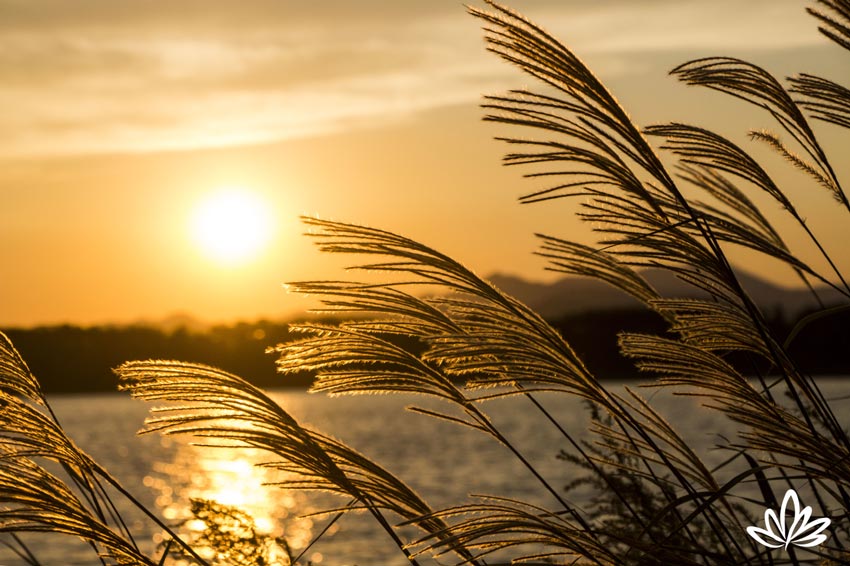 "If the only prayer you said in your whole life was 'thank you,' that would suffice."  ~Meister Eckhart (13th century mystic)
For me, Thanksgiving has always signaled the official start of the holiday season. The holidays can be busy and stressful, but the spirit of Thanksgiving holds the key to getting them off to a serene and joyous start—and that key is gratitude! This year, I encourage you to take a deep breath before diving into the festive chaos to reflect and give thanks for the blessings in your life. Don't stop when the pies have been eaten and the turkey dishes washed and put away. I challenge you to foster the habit of gratitude throughout the season – and resolve to keep it alive through the New Year! 
Why is gratitude so important at this time of year?
Gratitude is all about expressing appreciation for what you have, instead of focusing on what you want or think that you need. During the holidays it's easy to get sucked into the consumer frenzy. Frequently pausing to acknowledge the blessings in your life will help you put things in perspective and enjoy the spirit of the season!
Gratitude is good for the mind, body and spirit!
Gratitude increases your levels of happiness and optimism, and improves your relationships with others. Studies have shown that gratitude makes you healthier too! Keeping a gratitude journal and verbally expressing thanks allows people suffering from emotional or physical problems to reduce the severity of their symptoms, sleep better, and improve their overall quality of life.
Would you like to be happier every day? Regularly expressing gratitude can help you improve your "set point" for happiness. The idea of a set point comes from research showing that people return to their characteristic level of happiness a short time after experiencing unusually good and unusually bad events. The research on gratitude, however, suggests that by embracing gratitude people can move their happiness set point up – resulting in more optimism, joy and good health!
How can you cultivate the "gratitude habit?"
Are you taking the time to give thanks every day? If giving thanks isn't second nature to you, or if you are experiencing a "dark night of the soul" and can't find much to be grateful for, here are some ways to let the light of gratitude into your life:
Schedule time for gratitude! For a few weeks, make a conscious decision to conjure up grateful thoughts before you go to bed, as soon as you wake up, or before meals. Soon you'll notice that thankful, positive thoughts pop into your head at these times, unbidden, lifting your spirits and taking the place of worry, stress, and fear!
Keep a gratitude journal! Take five minutes every day to jot down a few things that you're grateful for. Put pen to paper and let the words flow! Be creative – you'll find that you have a lot to be thankful for!
Say thanks in the form of a prayer! Give thanks to a higher power when good fortune strikes. When you find a great parking spot, have a pleasant interaction with a stranger, or have a successful day at work, acknowledge the event with a quick prayer of gratitude!
Remember people in your past who have made a positive difference. If you can, let them know with a quick note, call or Facebook post. Even if it's not possible to contact them directly, take the time to remember them, give thanks, and mentally wish them well!
Give thanks to the world around you. Beautiful sunsets, a peaceful walk in the woods, or a starry night sky can inspire awe and gratitude. When struck by the beauty of nature, repeat the words of e.e. Cummings, "i thank You God for most this amazing day: for the leaping greenly spirits of trees and a blue true dream of sky; and for everything which is natural which is infinite which is yes."  It's a great way to give tribute to the wonders around you!
Be thankful for the challenges in your life that have shaped you into the person you are. When you tackle a difficult task or handle a confrontation successfully, give thanks to the people and events that have made you strong in mind, body and spirit.
Don't forget your pets! When your pet greets you at the door or curls up next to you on the couch, take a moment to thank them for the unconditional love and joy that they bring to your life.
It is easy to forget to say thank you when our lives are so busy – but that's all the more reason to take the time! When you experience a loving moment with a friend, family member or pet, admire a lovely view or savor an accomplishment, make it a point to pause and whisper a quiet word of thanks. It will lock that positive experience in your consciousness, and make you more receptive to recognizing the next lovely moment when it comes along!
As an energy healer and spiritual teacher, I focus on sharing ways to bring more light and joy into your life. I recommend that you practice meditation, journaling and healthy living, as well as cultivate the habits of gratitude and forgiveness. These practices will enlighten your own life, and let you spread your light to everyone around you!