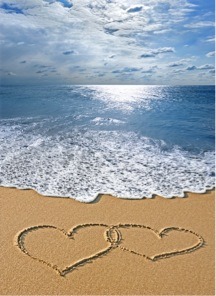 An intimate, stable relationship is the crucible in which we learn how to stand strong in our own individuality. It's not an easy task. We need to trust each other, to feel emotionally "safe," in order to bring forth the full expression of who we are. Unfortunately, a lot of us think a relationship should look like the one the romance industry promotes, full of hearts and flowers and sexy lingerie. We picture ourselves walking hand-in-hand along the riverbanks of Paris, sharing Mai Tai's on the beach, gazing soulfully into each other's eyes across a candle-lit table.
The truth is that our bodies are programmed so that the early infatuation we experience will pass in roughly six to twelve months. At some point, either you or your partner may want to run away from the relationship. I need time alone. You're smothering me. Or you don't spend enough time with me, you're always at work or with your friends. What statements like those really mean is I'm trying to figure out who I am and what I want.
As you reach the infamous seven year mark in a relationship, either partner may feel the strong need to run. And when women enter perimenopause, the compliant little wife may suddenly become a fierce tiger, and scare her partner. As men and women hit their mid-forties to mid-fifties, they may develop more of the heavier qualities of the earth, sleeping more or becoming inclined to depression. Or they may exhibit too much of the fire quality, become overly driven and ambitious and rushed.  Or they may develop too much air quality and become anxious and worried and have trouble sleeping. These are classic times for one of the partners to have an affair, or many affairs.
Most relationships crack because of lack of trust brought on by either financial or sexual factors. If your partner is not contributing to the monetary welfare of the relationship—can't get or hold a job (especially in this economy), gets an inheritance and blows it on a Porsche instead of a college fund for the kids, or develops a gambling addiction, for example—money is the main factor in the loss of trust in the partnership.
One of the most common betrayals of trust happens when your partner (or you) has an affair, which is pretty difficult not to take personally. Ideally, it would be nice to be able to forgive and move on, but a lot depends on the circumstances. Was it a single one-night stand? A long-running affair? Many different partners? There are few relationships where one or the other partner doesn't at least think about straying at some point. But looking outside the marriage is really just a diversion from the basic issue, which is finding ourselves. However, it is a compelling diversion that basically switches our attention from our present partner's needs to the new partner's needs. . . and often duplicates the problems we had with the last partner.
I work with so many people who blame themselves when their partner cheats or lands them in financial difficulty. The key point to remember is that your partner's behavior says more about the problems your partner is trying to resolve from his or her past than about anything directly related to you.
Unfortunately, when we're betrayed or our trust is broken, we tend to shut down our heart. When a dog is hit, it cowers close to the ground. Well, we do the same thing if our heart is hurt. If we don't open our heart and let the pain move through, how can we be open to new experiences of love? This is why it's so important to clear the energy from past relationships out of your personal energy field and out of your body (see the shamanic technique, the "Sweeping Breath," on page 117 of my book, Be Your Own Shaman). That old relationship can slow you down and make you feel confused, unfocused, unhappy, lethargic or, worse, it can make you toxic and sick.
I'd like to pass on to you the two biggest tips that I have learned in over thirty years of marriage: First, if you meditate every day with your partner, you'll find it's pretty easy to get along. Secondly, when you are really upset with your significant other, begin every statement with how you feel. Start the sentence with "I feel horrible when you say such and such," instead of saying, "You always say..." That gives the other person a chance to realize the impact they are having on you instead of going immediately on the defensive.
As you grow in your emotional health, your relationships will reflect a more mature intimacy, which in turn allows you to be fully who you are. If your relationship can survive the power struggles and betrayals, it means you have healed the wounds inflicted in the battle of the sexes for nurturance, power, and self. You realize you can separate from each other and come back together without losing yourself, and you can finally claim the prize of real intimacy.