A Balanced Third Chakra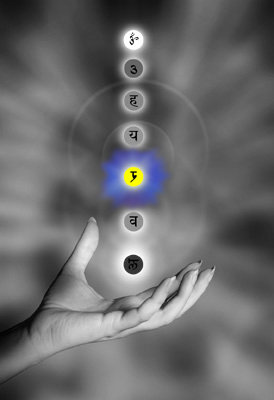 When our third energy centers are fit and healthy, we feel able to take action. Our intentions are clearly focused. Those with vibrant third energy centers claim their power and stand in it. They have no need to demand or ruthlessly take power from someone else. Power flows to them because they know who they are and who they are not. These people can accomplish a great deal in the world.
An inspiring example of someone with an integrated third energy center is Halle Berry, the first African-American woman to win the Academy Award for Best Actress for her role in the movie Monster's Ball. Berry, the child of a white mother and African-American father, was a shy young girl whose father drank and abused her mother before he left when she was four years old. Kids teased her about her mixed color at school, yet she chose to become a beauty queen, fashion model, and then an actress. While filming a television show, she fainted on the set from undiagnosed diabetes and wound up in a coma for a week. When she woke up, she embarked on a healthy diet and exercise lifestyle. Now she says that diabetes turned out to be a gift. She said, "It gave me strength and toughness because I had to face reality, no matter how uncomfortable or painful it was."
That pain included an attempted suicide after an early relationship failed. She said, "My sense of worth was so low. I had to reprogram myself to see the good in me. Because someone didn't love me didn't mean I was unlovable. I promised myself I would never be a coward again."
Halle Berry may have come from a place of desperate inadequacy, but her will and resilience have overcome the distortion in her third chakra. She now lives her truth without bending to what others think and has learned how to manifest her desires, overcoming her diabetic condition to have the baby she so wanted in her life, even after 35 negative pregnancy tests. In an interview she said, "I have never been in better physical and emotional shape, and I'm happy in my personal life—what a novel idea!"
A few considerations for obtaining a balanced third chakra are:
Live your truth without regard for what others think.
Take responsibility for your words and actions.
Acknowledge that you have a choice and the ability to manifest your desires.
CHECKLIST
If you have concerns about whether you have imbalance in this area, answer the following questions:
Am I able to acknowledge and move through my feelings of anger and resentment without blaming o verbally attacking others
Is jealously eating me up?
Do I feel I can cooperate with others as a team player or do I invariably need to hog the limelight?
Do I chronically push myself and others to get things done? Do I try to "push" time itself?
Do I try to control others or events?
Do I have a habit of standing with my arms folded in front of me, above my waist, in an effort to protect my solar plexus?
Do I frequently feel overpowered by people I am with?
Is winning everything?
Do I require outside approval to feel okay about myself?
To support an increase in energy, vitality, and connection to self, I often recommend that people spend a portion of their day in the sun, preferably in the early morning or just before sunset. (If you are inclined to be angry or short-tempered, though, be very cautious about becoming too warm.) Engaging in any physical movement awakens and recharges your body, especially first thing in the morning. Try some form of intentional movement like t'ai chi, yoga, or Pilates, preferably outside. Gardening is another wonderful antidote to a frantic, fast-paced routine. Anything that allows you to slow down and become acquainted with who you are and what you really feel is key.
From Truth Heals (Hay House 2010)