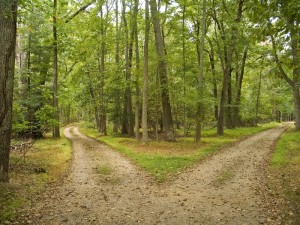 I shall be telling this with a sigh
Somewhere ages and ages hence:
Two roads diverged in a wood, and I,
I took the one less traveled by,
And that has made all the difference.
Robert Frost
Years ago, while attending a fund raiser for a local homeless shelter, I found myself seated next to the delightful and very down-to-earth couple who ran the day-to-day operations of the facility.  I was amazed with the progress that this particular charity had made over the past several years, and suspected that my new friends were responsible for a big chunk of that success.
As they shared their story, it turned out that I was 100% correct. Larry and Roberta had both attended prestigious colleges, married, and spent many years climbing the corporate ladder when, as part of a corporate outreach program, they started helping out at the shelter.  As they became more and more involved and applied their business expertise to the center, they found a passion for the work that they hadn't experienced in their corporate jobs. Larry quit his six-figure job to take a full time position at the shelter (at a much lower salary), and Roberta joined him a few months later.  With their help, the shelter grew to a multi-faceted facility that didn't just house and feed the homeless, but provided drug and alcohol rehabilitation, counseling and job placement.
I was inspired by Larry and Roberta's commitment to the homeless and to each other.  It was obvious to me and to everyone around us that they had found their true calling!
There was a period early in my own life, when I was seeking my true path – not the road that others expected me to travel, but one that was healthy and meaningful for me. I learned to meditate, to listen to the inner voice, the intuitive guide within. And here I learned my true purpose in life: to overcome any darkness within me, to live as consciously in the light as possible, and to help others do the same. That's the subject of my newest book, Entangled in Darkness: Seeking the Light, just now available.
So the question is: what is your purpose in life. Do you know why you are here on Earth, in a body, at this time? I'm not talking about your job, your daily responsibilities, or even your hopes and dreams for the future. I'm talking about the age-old question: What is the meaning of your life?
For those of you who have discovered the path of Spirit, and who have had some sort of direct experience of Source, your perspective shifts. You may no longer be interested in "hot" partners, shiny jewelry, the best car, or the biggest house. Your attention now focuses more on what's inside than on what's outside. Are you kinder than you used to be? More loving, more accepting of other cultures and lifestyles, more open to new experiences, new people? Are you doing something, big or small that makes the world a better place? Do you have a spiritual practice that sustains and supports you?
When you think of your purpose in these terms, you can see that your goals change. Your purpose in life basically doesn't have much to do with what you do as much as who you are. Mother Theresa put it this way: "We do not DO great things. We do small things with GREAT LOVE." Your current purpose may be to love yourself more, to accept your human frailties, to stop trying so hard to be perfect. Maybe your purpose is to heal your old wounds and be kinder to yourself and to your body. And your purpose will evolve over time, as you face and surmount challenges.
Eventually, you come to understand that spiritual development, the evolution of your own consciousness, is the best way in which you can serve others. In that way, you are also serving the world. You can still be passionate about your job, your family, and work to make your day-to-day life more comfortable and secure—all the while knowing that everything outside of yourself is impermanent.
Larry and Roberta found happiness and fulfillment by using their business skills to help others break their cycle of poverty. I found my true path in teaching, whether it's simple health & wellness concepts on national TV or sophisticated energy medicine and life coaching courses or teaching people how to move up to the next level of consciousness. You'll want to use your discernment to determine what your true purpose is and don't assume it's what you do every day at work; while it may be, it could also be something you do at home or in your free time.
To find your true purpose and embody it requires that you've cleared away much of your past darkness and moved into your own higher qualities. To help you become that leader you're meant to be, join me for a 4-part Hay House Live Online course called "Seeking the Light," starting September 19th.  You can come live or listen later – I hope to see you there!