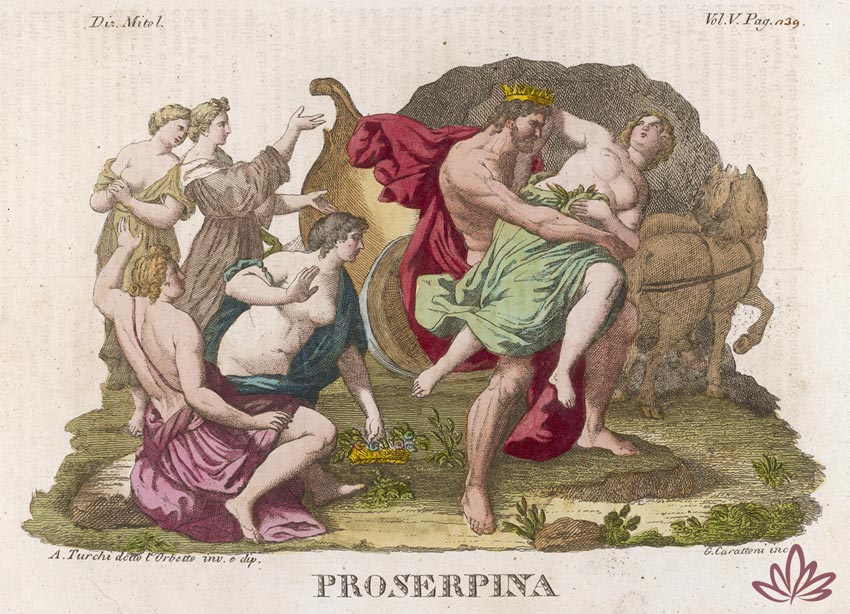 The trees are bare and stark. The sky blackens with storm clouds. It gets dark outside early in the day. In the gloomiest part of the year, all you may want is to sit in front of a blazing fire, snuggled up in a warm blanket, a cup of hot chocolate in hand. But know that we're coming up to the Winter Solstice, when, slowly but surely, the light starts coming back. In the dead of winter, when spring's flowers and budding trees are still months away, the days start getting longer, and more light starts to infiltrate our awareness.
The descent into darkness is laid out in the Greek myth of Persephone. Zeus gives his brother Hades (the King of the Underworld) permission to abduct his daughter Persephone. Hades rises up from a dark hole in the earth, seizes Persephone, and takes her off to the underworld to be his wife. The permission given to Hades by Zeus shows that the journey into darkness is not at odds with the will of heaven. Her abduction is a step forward in her growth as a spiritual being, a rite of passage into a fuller life.
Persephone resists this process, as we all do. She seeks help from gods and men, none of whom will come to her rescue. Finally her mother, Demeter, appeals to Zeus and he agrees to set Persephone free—if she has not eaten any food in the underworld. By the time Hermes arrives in the underworld with Zeus's message, Persephone has already eaten some pomegranate seeds. As a compromise, she is allowed to spend six months a year with her mother in the upper world, and then must join her husband in the underworld for the rest of the year. Thus, Persephone encounters her shadow side most profoundly through her intimate relationship.
The spiritual journey is more than just an ascent into the light; it is also a descent into the shadow world, where we earn the wisdom we need to be lightbearers. Of course, the best way to stay in the light, no matter how dark the winter (or your life) may be, is to connect with the light within you in whatever way you find most conducive. You may do it through a practice of meditation and/or prayer, through any of the creative arts, or through some form of service to those who are in need.
You can find comfort and warmth by joining with others, whether in traditional religious holiday observances or by creating your own ceremonies and traditions. Shared experiences of consciousness are a powerful way to increase your light.
It's possible to find light even in our darkest moments in life. Like Persephone's underworld, the darkness holds the source of our greatest illumination. My diagnosis of cancer as a young woman held within it the seed of my becoming a healer. Your higher self, your inner Zeus, knows what you need in order to grow stronger in the light.
Are you in the grips of the underworld? Instead of denying or running away from or fighting against a plunge into an emotional, physical, mental, or spiritual dark night of the soul, use whatever challenges come your way to grow inside. Here are some tips on how to surrender to the process and come out lighter and brighter:
Don't label something as bad or wrong. Let go of the need to judge what is happening to you. Accept the experience for what it is.
Don't blame others. Take responsibility for your own life.
Stop projecting stories from your past onto this moment in time. The same goes for living in fear of the future.
Embrace whatever challenges come your way, and don't worry if things don't turn out as you had planned. Trust that higher forces are guiding you.
Even though you might not be able to see the big picture yet, know that there is a reason for whatever you are experiencing. You are part of the grand plan.
Be at peace, and be willing to do the inner work that is needed to heal the outer struggle.
We are all being called to be lightbearers, to help shine light in the dark corners of the world. We are spiritual beings who are here with a purpose and a mission. Our soul qualities need to develop. So whatever dark days you are living through, know that there is, in fact, light at the end of the tunnel. Persephone arises into the upper world every spring, signaling the time of rebirth into the light.