Connect to Source: Make Prayer Work for You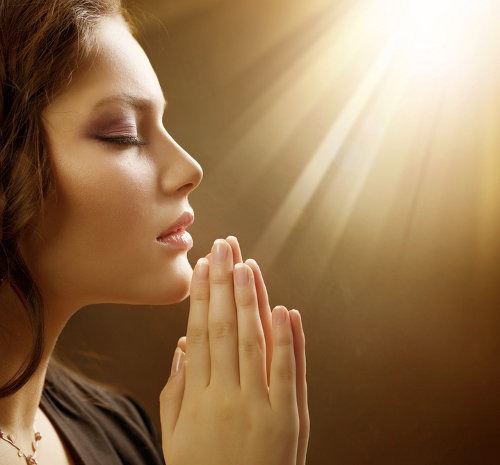 This week, we celebrate a National Day of Prayer. While you may have an image of getting down on your knees with your hands clasped like the woman in this photo, prayer can take on many various forms that are as equally valid and spiritual as going to church. What makes something a prayer is its ability to carry what we are trying to say at a deep level, but cannot voice directly.
Here are some ideas for ways you can better voice your deepest thoughts and prayers this week and connect to Source:
Read or write a poem.
Reading and writing poetry is a great way to access Spirit and can be a very prayerful experience. I have been a big fan of poetry since I was a teenager and used to listen to old vinyl records of poems like Robert Frost's "Stopping by the Woods". Often, poetry can express what you are feeling without having the words to say your feelings out loud. Poems can ground you closer to our Mother Earth and help you connect to Source, all at the same time. Their beauty can lift you to a higher spiritual place.
Get in touch with your artistic inner self.
Doing art as an act of prayer is an embodied, active prayer. If you undertake art with spiritual awareness, it will have a spiritual effect. In this light, creating art is the channel through which an artist's prayers are manifested. Art as prayer is a conscious connection to the Creator, a true way to connect to Source. So pick up some paper and paints, or even markers, and draw what comes to your mind when you are thinking of your deepest thoughts and wishes.
Listen or create music.
Everyone can get in touch with their inner musical self and create prayer through music, whether it is listening to your favorite songs or singing and chanting your own music. Music can also be used as an introduction to prayer time or to complete the end of prayer. Kirtan chanting is one form of music that can bring you closer to your spiritual self. But even just putting in your favorite CD and listening to beautiful music you love can help you awaken your larger self and your sense of awe, beauty, longing, pain and joy. You can let music act as a vehicle to connect you to Source.
Move yourself into a place of prayer.
Movement itself, whether it is running or doing yoga, dance, pilates, or martial arts, can take you to a higher zone where you feel more connected to Spirit. Movement itself can serve as a form of prayer for you as it can help you transport your feelings and raise your consciousness. Not only will you feel more grounded and healthier in your body itself, but you will be able to put your mind into a place where you can express clearly your innermost thoughts and feelings to your higher Source. Dance especially can lift you and help you express what you are not putting directly into words.
Visit a calming place.
There are places, besides churches, where you are able to feel closer to Spirit and connect to Source through the power of prayer. Often, these are places close to Mother Nature, such as the beach or a park or the mountains. Take a walk and visit one of these places that help put the serenity back into your mind and thoughts and help you feel that closeness with Source. The thoughts and closeness you feel in these places can function as prayer and serve well to lift your soul higher.
Try not to think of prayer as a rigid, rules-based religious obligation. Instead, look at prayer in its most organic and creative light – through poetry, music, dance, and nature. Prayer is a powerful and beautiful tool that can help you achieve your highest consciousness and enlighten your soul, and everyone should feel invited to participate in prayer.
If you would like to become more adept at prayer and learn to coach others to do the same, please click here for information on my enlightening online certification course in the Power of Prayer.