Do we choose the animals in our lives, or is it the other way around?
A friend of mine once had a cat show up outside her door on the same day she found out she had breast cancer. She hadn't been looking for a cat, but he moved right into the house as her companion and became her new best friend.
You hear the same thing all the time from dog and cat owners who will tell you they weren't looking for a pet, but were simply "adopted by" an animal and couldn't let them go.
I was actually looking for a horse when I first met Influence, my Dutch Warmblood. For more than a year, I had been riding stable horses, but wanted a horse of my own to love. As I tried to narrow the list, I sent my Vedic astrologer three horse names from every weekend search. Unfortunately, he rejected them all, telling me to be patient, my horse was out there.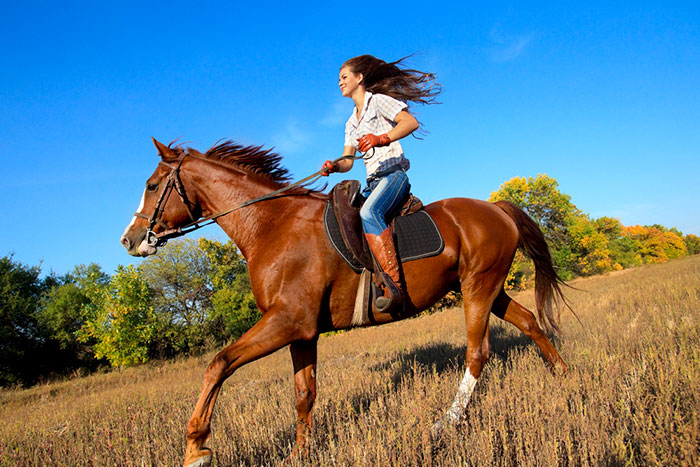 Just when it seemed like I would never have a horse of my own, I met Influence at a horse show. He was huge – 1,600 pounds – and black with a white blaze on his forehead and four matching white socks. As I watched him being unloaded from the trailer, I could tell instantly how calm he was, even while many of his counterparts jumped out and were difficult to control. To my surprise, the owner told me this show was his first time away from the farm, and that he'd never been saddled.
As Influence and I looked at each other across the stall railing, I could only describe myself as smitten. He must've felt the same, because I heard him ask me very clearly in my mind to take him home. Even my astrologer agreed, telling me "this is the one you've been waiting for," but warned me not to bring him home right away since he was at risk for an injury in the next few weeks.
Like a lot of us, I ask for advice I don't necessarily follow, so it's probably no surprise that I brought Influence back to our ranch, in the wilds of the Sierra Nevada Mountains near Lake Tahoe, right away.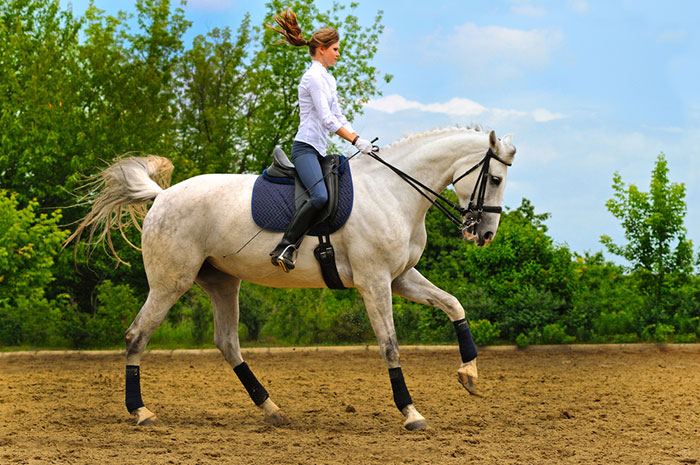 Sure enough, three days after I brought him home, I peered out the window and saw him looking frightened. Influence was holding up his front leg and blood was spurting out – the sure sign of a serious injury. My vet warned me that he'd probably never be "sound" again, but I took him to a clinic anyway.
That turned out to be a good thing, because not only did it save my horse, but he went on to recover fully. In fact, just a year later I took him to a breeding show and he won the top award for the finest conformation in North America. "Don't let that go to your head," I cautioned him. "Pretty is as pretty does!"
Together, Influence and I were a green horse with a green rider… absolutely the worst combination there is, according to the experts. When I look back now, it occurs to me that I never actually became Influence's master. Instead, we were like classmates together. We were best friends.
I took Influence everywhere with me: to the doctor, the dentist, the supermarket. Whenever I would return to my truck, he would be there, patiently waiting for me. He became the child I never had. After a peacock suddenly flew out of the trees one day as we rode by and he reared, unceremoniously dumping me on the ground, I wanted him to be "spook proof" so I could fulfill the old adage of always keeping the horse between me and the ground. To that end, I got him nearly every animal on the planet and we raised them together: our dearly beloved pig, a billy goat who chased us around the ring while we rode, Bessie, the black and white milk cow that I bottle raised from infancy, chickens, ducks, a dozen llamas, and a pond of fish. Despite his size, Influence was very gentle and loving with the other creatures.
All of our vacations for the next 25 years centered around where Influence wanted to go: one summer we trained with Jane Fonda at her ranch in Montana, another at a Healing Touch workshop on the Pacific Coast, and countless trips centered on horse shows around the country where we got to play dress-up together.
His stall had a sliding door that faced into my office so even when I was working, we were together. If he got sick, I slept in a hammock in his stall. What can I say? These are the things you do for a good friend.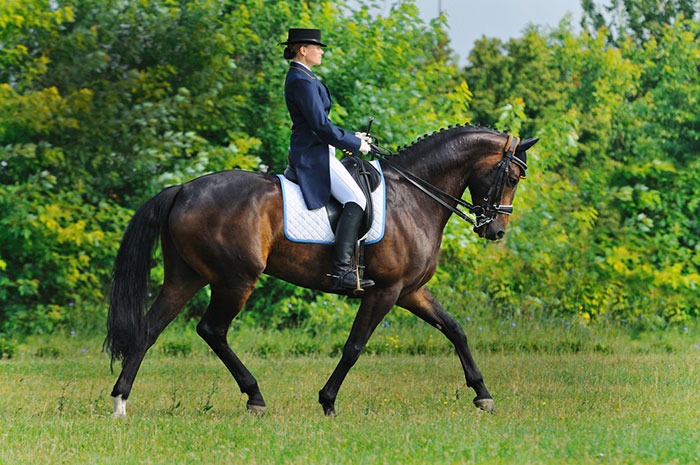 Influence taught me how to talk to the animals. I had only been riding him about a week when, one day, we found ourselves out in the desert for a short walk. I can still remember him saying to me – quite clearly – "It's too hot out here and my feet hurt." As if to reinforce the point, he gave me a cute look that said, That's right, you heard me.
He's also spoken up on other occasions. For instance, he used to complain how it wasn't fair that the dog got to come inside and he didn't, saying, "I'd be perfectly happy sitting on the couch and eating popcorn, too."
The first time he ever saw me ride another horse, he got so upset, he turned his big behind to me, and refused to speak to me for the rest of the day. Animals have feelings too!
Perhaps the most important lesson I've learned from my horse, though, was when I figured out he was staying with me because he wanted to, not because he was fenced in. One day, as I was walking another horse around and feeding him carrots, Influence jumped his fence and cantered over to us with no effort at all, flouncing his tail and prancing in circles around us. He made it clear that he was angry when I fed treats to another horse and not him. Apparently you can be a good Influence and still have a bit of jealousy now and then.
At the same time, he made the instant point that he could leave anytime he wanted to. That actually made me feel better about our friendship than anything else.
Over the years, I have learned so much from Influence. He showed me how to move as one with him in performing the difficult movements of dressage, and then on a deeper level, took me down a path of studying the energetics of animals and learning to communicate with them telepathically. Best of all, he taught me about the unconditional love that can exist in the natural world when we're open to receiving it.
I'm so thankful to Influence for choosing me.