Mind vs. No Mind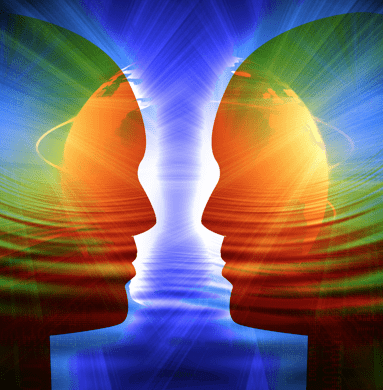 When I was speaking at a conference not long ago, I met a woman named Sandy. She told me that she was 62 years old and had fallen twice in the previous year, breaking bones each time: a couple of ribs in the first fall and a hip in the second. The doctors told her that she had advanced osteoporosis and, naturally, she was quite worried. Sandy didn't have any idea what was causing such an advanced case at a relatively young age, so she'd come to me for help.
I began by asking her about her childhood, as I had a vague knowing that somehow it was related to her condition. At the same time, I felt into her energy field using my own body as a sensing mechanism. Sandy said that she was born with a hip deformity and had undergone several corrective surgeries before the age of two. This information dovetailed with what I got when she first walked up to me: a lot of fear and a disconnection from the natural world—that is, she didn't feel connected to the earth and she wasn't grounded. I concluded that this was likely the result of her early surgeries' damaging impact on her base chakra.
In Sandy's energy field, I sensed that her first chakra was distorted in shape and circling in the wrong direction, which means it was unable to take in energy and caused her to exhibit a distorted view of reality. She thought the nature of the world was trauma and pain and that there was danger lurking around every corner. She was also unable to receive any sustenance from Mother Earth, the source of all our strength and health. This explained the weakness of her bones.
Throughout this process, I went back and forth between "Mind" and "No Mind." We all know what the first term refers to: when we're thinking with our left brain. In my Mind, I was reviewing what I knew about the condition of osteoporosis and how it's often a result of a poorly functioning first chakra. From No Mind—that place in ourselves where we sense and feel, and from which we get our intuitions—I received information from the unified field and all of my senses, both normal and paranormal. This is how I obtained the information about Sandy's childhood and the fact that the base chakra's condition was a factor.
Next, I focused my attention directly on her physical body and found that her bones had that porous feel I associate with osteoporosis. Again, I moved between Mind and No Mind to arrive at this conclusion. At this point, I was pretty much done with the intake part of the session.
Working in an expanded state, I checked and deepened the connection with my guides (from years of doing this work, I am linked with them constantly). I specifically requested that they work through me, and then I expanded and raised my own energy field to accommodate their higher vibration. The guides began to resolidify Sandy's bones, using my body as the vehicle.
At the same time, I "heard" what Sandy needed to do in order to get well. Using that information, I gently explained to her that her bone problems were associated with those early childhood surgeries that had separated her from the earth. Therefore, reconnecting to it would help build bone health. I suggested that she walk barefoot on the beach (she lived very near the ocean) and spend time sitting with her back against a tree. These activities would put her in direct contact with earthly energies to further sustain bone strength.
When the guides had finished their work, I used my focused intention to firmly root Sandy's first chakra and sacrum directly into the earth. I did this without thinking; for me, it's as automatic as driving a car or brushing my teeth. I also recommended that she take up a practice like yoga, Pilates, or dance to bring her more fully into her body and aid in keeping the grounded connection I had helped her establish.
Some months later, I heard from Sandy. She reported that she was less anxious, more balanced, and peaceful. She had followed my suggestion and was taking dance classes. She had also formed the habits of eating outside at noon, sitting with her back against a tree, and walking barefoot in the sand at least three times a week. Her osteoporosis tests had improved dramatically, and she no longer needed to take medication for the condition.
Much of the information I received about Sandy, you would have picked up, too. In fact, you're probably already getting more than you realize about people's emotions and their health. When you become your own shaman, you will know how to go from getting occasional hunches to having fully developed intuitive skills. These are wonderful gifts of the spirit, and you will know that what you receive is highly accurate. Our culture calls advanced abilities "paranormal" or "beyond the norm," but that's only because 99 percent of modern humans have turned these sensing abilities off. The good news is that they can be turned back on rather easily.
Excerpt from Be Your Own Shaman by Deborah King (Hay House 2011)