"It's all about Perception" by Barbara Sinclair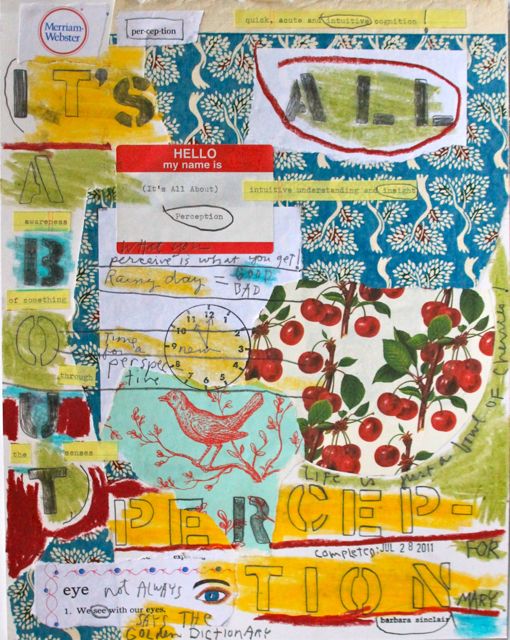 When our kids were young, my friend, Mary, and I would often remark, "It's all about perception". Meaning – their perception vs. ours. While we viewed discipline as teaching life lessons, they likely saw it as cruel and unusual punishment. I've thought a lot about this lately and how perception fuels much of how we live our lives, both in relation to others and to ourselves.
It's impossible to know just how someone else (especially a child) is interpreting our words or our actions unless we ask them directly. The tone of our voice might imply something totally contrary to what we intended. Maybe we're tired or distracted and were just stating a fact, but the other person perceives that we're angry or annoyed.
The science of Ayurveda is a great place to begin to understand why we all feel things so differently.  A study of the three doshas (vata, pitta and kapha) around which Ayurveda is based, will reveal how we might have a different reaction to the same situation such as a boss making a cutting remark. The vata type would likely be hurt and overly sensitive, but the hurt feelings would soon dissipate. The pitta type might explode in anger (or at least be seething inside). The kapha type would probably "take it" but would never forget it! If you're curious what your dominant dosha is, here's an easy quiz you can take.
Since studying Ayurveda, I've learned that before I cast judgment on someone's reaction, I do a quick "dosha assessment" and then usually have an ah-ha moment. My perception invariably changes and any possible misunderstanding tends to evaporate. Imagine how many relationships would be smoother if each person took the time to understand their partner's unique constitution. I'm not making excuses for bad behavior here, but rather showing how a modification in our perception might change a potentially uncomfortable situation.
Then there's the perception we have of our self and what's happening around us that's out of our control. If we can shift how we look at disappointment in our lives and instead see it as an opportunity for change and growth, we can move forward, instead of staying stuck in old patterns of negativity. A rainy day can go from a "ruined day at the beach" to a glorious chunk of time to burrow in, read a book, watch a good movie or do some clutter control.  Likewise, if we always see ourselves as depressed and stagnant, chances are our perception will become our reality. Sometimes just bringing this into our awareness is enough to help make that shift towards a more positive outlook.
How do you feel perception influences your daily life? I would love to hear your thoughts!
Guest Blog Post: Barbara Sinclair is a visual artist and holistic health coach living in New York City. "Studying energy medicine in Deborah's 21st Century Energy Medicine Program has greatly influenced every aspect of my life, both personal and professional." You can learn more about Barbara and read her blog by visiting her website at https://barbarasinclair.com/.