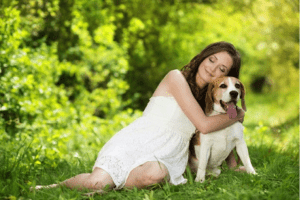 We love our pets. And sometimes we swear we know what they are thinking. But one place communication can be more difficult is when a pet dies. It's really hard on us, and especially hard for a child to lose his or her "best friend."
I recently read a wonderful true story that I'd like to share with you. 4-year-old Meredith Scrivener wrote a letter to God (with her mom's help, of course), about the loss of her 14-year-old dog, named Abbey . . .  and got a reply.
Meredith was crying and talking about how much she missed Abbey, so she wanted to write a letter to God "so that when Abbey got to heaven, God would recognize her." This is the letter she dictated:
Dear God,
Will you please take care of my dog? Abbey died yesterday and is with you in heaven. 
I miss her very much. I 'm happy that you let me have her as my dog even though she got sick.
I hope you will play with her. She likes to swim and play with balls. 
I am sending a picture of her so when you see her you will know that she is my dog. 
I really miss her. 
Love, Meredith 
The letter included a picture of Abbey & Meredith, and addressed to God/Heaven. A return address was put on, along with a lot of stamps "to get the letter all the way to heaven."
A short while later, a mysterious package wrapped in gold paper arrived, addressed 'To Meredith" in an unfamiliar hand. In the package was a book  called When a Pet Dies. And this following letter was taped to the inside cover of the book:
Dear Meredith, 
Abbey arrived safely in heaven. Having the picture was a big help and I recognized her right away. 
Abbey isn't sick anymore. Her spirit is here with me just like it stays in your heart. Abbey loved being your dog. 
Since we don't need our bodies in heaven, I don't have any pockets to keep your picture in so I'm sending it back to you in this little book for you to keep and have something to remember Abbey by. 
Thank you for the beautiful letter and thank your mother for helping you write it and sending it to me. 
What a wonderful mother you have. I picked her especially for you. 
I send my blessings every day and remember that I love you very much. 
By the way, I'm easy to find. I am wherever there is love. 
Love, 
God 
There are so many heartwarming stories related to our pets. I've read about a cat that traveled hundreds of miles to find its way back home, and about dogs who have rescued their owners, waking them at night when there was a fire in the house. There are stories about lions, gorillas, whales, dolphins, and even a pig saving people.
But sometimes we wonder what our pets are thinking. Why is Ginger the cat or Emma the dog acting that way? Why have they gotten sick? What do they like/dislike? What information do they have for us? I know from the many animals I've lived with over the years—cats, dogs, horses, llamas, chickens, ducks, and geese, just to name a few—that they have their own wisdom that they are willing to share with us.
Certain people have the gift of being able to communicate with animals and to read the subtle clues they present. They can coax animals into opening up and revealing their emotional and/or physical problems. Think of the questions you would ask someone who could hear your animal's thoughts. Would you ask what they were thinking or feeling?  Or why they're behaving the way they are? Or maybe you would ask how are they doing since they transitioned to the other side?
If you have questions about your pet, just call the show and let's talk!!