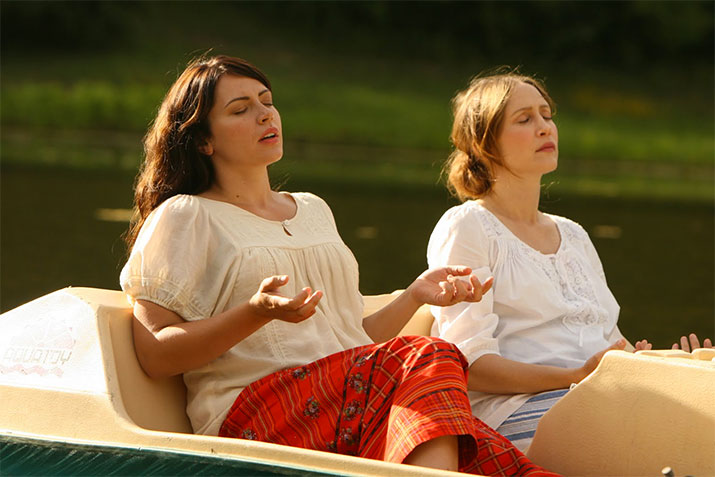 Raised in what appears to be a nondescript mainstream Protestant church, Corinne had quite a curiosity about spiritual matters, even as a child – she's the Midwest's version of a seeker. Things heat up when she gets pregnant, marries young, and she and her rocker husband have a crisis (don't want to ruin the movie for you so I'm intentionally vague). The strain of it all turns them towards what seems like a small fundamentalist sect, of which they become card-carrying members. The movie weaves between faith and reason, trust and disillusionment.
What I really like about this film is its nuanced approach to religion. It doesn't portray the sect as horribly confining. Instead, it plays the shadows, showing both the beauty of the close friendships that the couple at the center of the film develop with their fellow church members as well as the impulse to stifle their own free thought so they can fit in.
It really reminded me of the week I spent several years ago in Texas, attending the hearings of the Fundamentalist Church of Latter Day Saints who had had their children taken away by the state on allegations of sexual abuse. There was quite an appearance of fun and camaraderie there, too, between the members of the church; you would have never known how horribly oppressed both the women and the men were.
After you have your mind opened by this film, while totally enjoying the great revival hymns (I can't wait to get the soundtrack!), ask yourself if it made you think about where you stand on religion. Do you have some limiting beliefs that are holding you back? And I don't mean in just one direction. For example, a few days ago I helped a woman question why she felt she had to deprive herself of the ritual of the church of her childhood because she disagreed with some of it's dogma. I assured her that it was perfectly okay to enjoy the ritual, which her soul craved, and ignore the dogma. My advice in that kind of situation is always take what you want and leave the rest behind. Stay in the driver's seat of your life and don't allow the rules and limitations of others limit you.
This film may very well also make you ask yourself if you're swallowing important thoughts and life choices of your own in order to please a partner or a boss or a parent. Are you afraid to "rock the boat" in your tribe, afraid you'll be thrown out of the clan? At heart, that's what this film is really all about.
I'd love to see your thoughts on my Facebook page about what you think happened when the screen goes dark at the end of Higher Ground, as Corinne stands at the church door.
It's Fall again, and movie time, so hope to see you at the theatre!