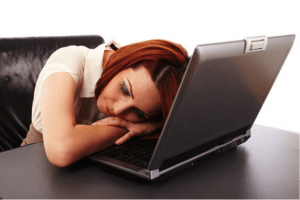 You know the feeling—you can't keep your eyes open for another second. You didn't sleep well last night, or any night for that matter. The least bit of stress totally wipes you out. You're snapping at your partner or co-workers. You have no energy for exercise. And you can't keep up with your work. What's wrong with you?
Well, it could be that you're overworked and underpaid, stressed out trying to balance work, kids, and aging parents, or that you're just getting older. But it could also be as simple as a deficiency in magnesium. Three out of every four aren't getting enough of this vital mineral.
Magnesium is needed for more than 300 crucial bodily functions, such as lowering blood pressure, protecting the heart and blood vessels, thinning the blood, relieving constipation, taking care of your bones (along with calcium), helping you to relax and sleep better, preventing diabetes, and boosting your energy. A growing number of health care professionals believe magnesium could be the most important nutrient for health, and certainly for energy.
How does magnesium affect your energy? For one thing, too little magnesium can decrease the number of your red blood cells, making it harder for them to deliver oxygen to your tissues. In other words, it's harder for your body to breathe, and so it has to work harder, making you feel more tired. If you experience heart-pumping anxiety, it might be because your magnesium levels are too low, so your heart has to work harder (beat faster). One scientific study of magnesium in postmenopausal women showed that when they were low in magnesium, they "needed more energy and more oxygen to do low-level activities…"
How do you know if you are deficient in magnesium? The most telltale signs are irritability, anxiety, and lethargy. Instead of upping your caffeine intake or relying on sweets for an energy boost, first take a look at what you're eating and when you're eating it. To keep enough magnesium in your blood, eat five servings a day of foods that are rich sources of magnesium. The Recommended Dietary Allowance (RDA) for magnesium for women over the age of 31 is 320 milligrams (mg) and for men over 31 it's 420 mg a day. Spread your five servings over the course of the day to keep replenishing your store of this magnificent mineral. It will take at least a week of eating this way to get your energy back up.
Here are the foods that are highest in magnesium:
Quinoa—A rare whole grain and complete protein (1/2 cup contains 118 mg of magnesium).
Black Beans—1 cup has 120 mg of magnesium.
Brown Rice—1 cup of brown rice contains 84 mg of magnesium plus essential amino acids. Pair it with black beans for a complete protein and magnesium-rich meal.
Spinach—1/2 cup of boiled spinach has 78 mg of magnesium. Cooked spinach, rather than raw, makes it easier for your body to absorb the minerals during digestion.
Lentils—A great high protein meat substitute, 1 cup of lentils contains 72 mg of magnesium.
Kidney beans—1 cup of kidney beans has 70 mg of magnesium.
Shredded Wheat—1 cup is a good source of fiber and has 61 mg of magnesium. Raisin Bran is another good cereal, with 77 mg of magnesium per cup. Try making muffins from Raisin Bran.
Oatmeal—Begin your day with 1 cup of oatmeal, which contains 61 mg of magnesium.
Whole Wheat Bread—Two slices of whole wheat bread contains 46 mg of magnesium. Get a big energy boost from a midday peanut butter and banana sandwich!
Bananas—A good source of magnesium (up to 32 mg), and also a source of potassium, another nutrient needed by the heart.
Other sources of magnesium include soy beans, bran, almonds and brazil nuts, and seeds. A daily multivitamin doesn't have enough magnesium to take care of a deficiency. So bump up your magnesium-rich foods to ratchet up your energy!