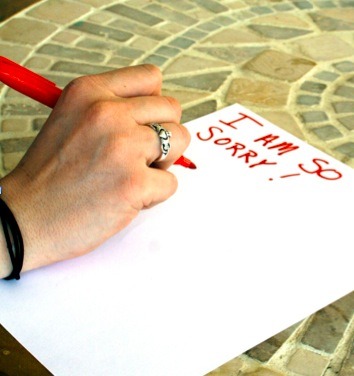 There's a wonderful line in the Paul Simon song, "Everything About It Is A Love Song," that goes: "Open the book of my vanishing memory, with it's catalogue of regrets. Stand up for the deeds I did, and those I didn't do."
Ah, regrets. We all have our own catalogue of them, divided into the things we're sorry we did and the things we're sorry we didn't do. I imagine there's a long list of politicians who are sorry they unzipped outside of marriage—not at the time, perhaps, but certainly when the media caught them and public indignation forced their resignation. What regrets heads of state must have about ordering troops into war, or is it only us civilians that regret "collateral damage" to innocents? Do Congressmen regret the bills for the public welfare that they didn't vote for because of political posturing?
Do rock stars and entertainers regret their wanton use of drugs, prescription or otherwise? If only we could hear from Amy Winehouse, Michael Jackson, Jimi Hendrix, Janis Joplin, Jim Morrison, and host of others. And we could tell them about our regrets: the way we were mean to someone, the way we hurt those we loved, the time we wrote that email we never meant to be seen but we pushed the Send button anyway. Or the things we didn't do because we were afraid—of rejection, of pain, of our status.
Regrets can be so tricky. Imagine being harmed by something that didn't happen! And the regrets we carry can manifest as physical ailments. Many of my clients made themselves ill over sorrows tied to chances not taken, roads not traveled, relationships not pursued.
For example, Dynasty, a 40-year-old mother of three, came to me with neck pain so severe that she had used up her sick leave and vacation time because she was unable to get off her couch. Doctors labeled her neck problems as stress related, but she couldn't find relief. I asked her about regrets and silent sorrows. She took a deep breath, a few tears fell, and Dynasty told me how sad she still felt about not being at her mother's deathbed six years earlier. BINGO! We had just found the answer to her neck trouble. My advice to Dynasty, who hasn't had a recurrence of the phantom neck trouble, was threefold:
Voice the regret. No matter how illogical it is, no matter how much we understand that we can't change the past, no matter how over it someone thinks we should be. Speaking the words out loud begins to release it from your body. Find a trusted person, an isolated mountaintop, even a loyal dog, but say the words out loud. In Dynasty's case, she need to say: "I regret not coming home to be with my mother when she died."
 Look at how that regret has shaped your life. Did you grab onto other relationships with a stranglehold? Did you avoid getting close to people so you couldn't lose them? Did you march along with a smile on your face to shut the door on the pain? Or did you recognize the gifts that came to you from this kind of pain? Did you learn to cherish your family and treat them kindly? Did you learn to never miss an occasion to tell someone you love them? Did you begin following your doctor's orders to maintain your good health? Recognize the effects these regrets have had on shaping your life. Some will be unpleasant to look at, but chances are, you have also gained some positive lessons as well.
Release the regret. Yes, it shaped me and taught me things–good and bad. Yes, it took root in my body and showed up as a sore neck, or a bad back, or ulcers, or knee trouble. Release yourself from this regret. Go to a peaceful outdoor spot and choose a natural item, like twigs or pebbles, as a symbol of your main regret. Sit quietly with your item, and when you feel ready, whisper the regret out loud one more time. Then release the pebbles off the side of a hill, or toss the twigs into a running stream. Watch them disappear and accept that you are no longer held by that sorrow.
When your regrets are based on actions you did, such as the chaos and despair your heavy drinking inflicted on your family, have you forgiven yourself even if those you hurt have not? Share your honest regrets with those you have hurt. Try the Hawaiian forgiveness exercise in  my book, Be Your Own Shaman.
Regret is an acid that eats at you. It can be tricky to tease out, because we internalize it so subtly. But by getting it out in the open, into the fresh air and sunshine, and releasing the shame and sorrow from your body, you can find freedom from your own catelogue of regrets.