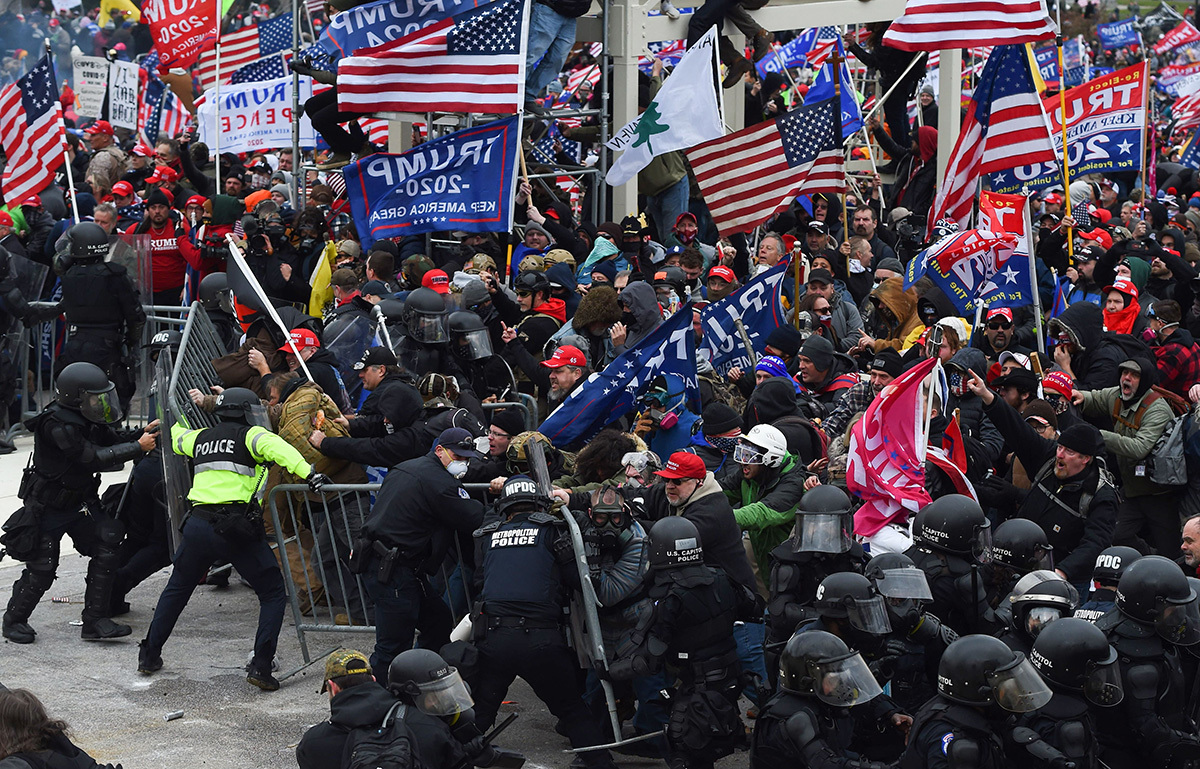 Has morality gone out of style?
The shocking events of last week made me think of 9/11, as there are some disturbing similarities.
Both were insurrections against our government. 9/11 was led by foreign terrorists; January 6th by domestic terrorists. Both were designed to take down our government.
I talked about last week's events – particularly about my own failure to take action sooner – on Facebook Live as well as in a blog. But there's so much more to say.
We all felt helpless last week. Today, I want to talk about what each of us can do now to protect our country from terrorists.
Let me preface my remarks by pointing out that I'm neither a politician nor a pundit, I'm a spiritual teacher. What could be more "on-brand" for a spiritual teacher than the subject of morality?
This violent attack reminded me of the book, The Last Battle, by C.S. Lewis – a great Christian writer. To make a long story short, in that book there are people who support one God named Aslan and others who support a God named Tash. Each supporter believes their God is the savior, while the other God is the destroyer. At the end of the book, it is revealed that Aslan is the true God.
Let me paraphrase C.S. Lewis: "If you do violence, though you say it is by the light, it is darkness who you serve."
I thought a lot about that on January 6th, watching an attack unfold against our country.
We watched as a mob of angry Americans (yes, sadly, Americans) invaded our Capitol. They brought with them weapons, flex cuffs, and tear gas. They erected gallows. They hunted through our halls of democracy in search of elected lawmakers that they wished to execute. This is not hyperbole. Insurrectionists were screaming "Hang Mike Pence." They were following the directives of their President.
This was scary. Because, at the end, the still attackers believed their cause was just. Just like the terrorists who hijacked the planes on 9/11 believed their cause was just. Both believed it was their moral obligation to carry out a violent, immoral attack.
Immorality. This is what the attack wrought on our country. Ultimately, it is the actions themselves that were immoral and unjust. These are the actions of betraying our principles of democracy, rule of law, and peace.
It's hard for us to wrestle with these concepts. When we're kids, we're all taught that there is good and bad. Good is good, bad is bad. We see it in the movies. And, almost always, the bad guys know they're bad. They cackle with evil laughter and have their plans foiled by the dazzling good guys.
Reality, though, is a lot more confusing, isn't it? Look around, think back. So what do you do when you are faced with groups of people who adamantly believe that their cause is just. My answer is: look to their actions. Quoting C.S. Lewis… "if any man do a cruelty, then, though he says the name Light, it is Darkness whom he serves and by Darkness his deed is accepted."
Many of the attackers on Capitol Hill swore by the light. They swore by God, or some version of something they believe is godly to guide them during their attack. But the actions were not godly. The actions were unlawful and ungodly. The actions were a betrayal.
Christ said, "Render unto Caesar the things that are Caesar's, and unto God the things that are God's." Caesar, in this case, refers to the administration of the physical world: the rule of law. Christ calls his followers to respect the administration of the physical world. Our nation is a democratic republic – a government where we vote for representatives who exercise the will of the people. We must respect that even when we don't like the results of that vote. If we feel so strongly that we don't like the results of a vote, we need to move to another country that doesn't have a democracy, Russia or China perhaps.
And when we are enflamed with a passion for our beliefs, we must not let our actions lead us down the path of darkness, no matter how divine we believe our cause. We must always be just, no matter how disappointed we are personally in the vote of the people.
People who commit crimes need to be held accountable for their actions. Adolf Hitler engaged in a failed coup in 1923. He went to jail but was treated leniently. Ten years later, he seized power. Likewise, Hugo Chavez attempted a coup in 1992. He was pardoned, and thereafter regained power. From there, he plunged the country into authoritarianism and chaos. If an abuser is not held accountable, he or his minions will strike back harder and harder.
It's like cancer. You must excise the cancer completely or it will grow back stronger. We must excise this cancer – lawfully and morally. We stopped the first attack. But our next actions determine whether these terrorists will strike again, and if their next attack will be more damaging.
The solution is not violence. The solution is not to overturn the will of the people. The solution is to use our rights and our abilities to make a difference. Voting, lawful assembly, calling and writing our lawful representatives. If you believe, as I do, that what transpired on January 6th was nothing short of a direct attack on our rights and our democracy, then I encourage you to find your representatives. I encourage you to write to your representatives and urge them to speak out for democracy and the rule of law, to remove this cancer from us. Here's a quick link to find your Congressman. Here's another to find your Senator.
Speak out for justice. Be vigilant. Be a servant of the light.