Download Your Chakra Chart pdf
Sign up to get your free printable chakra chart pdf and start learning about your 7 chakras today!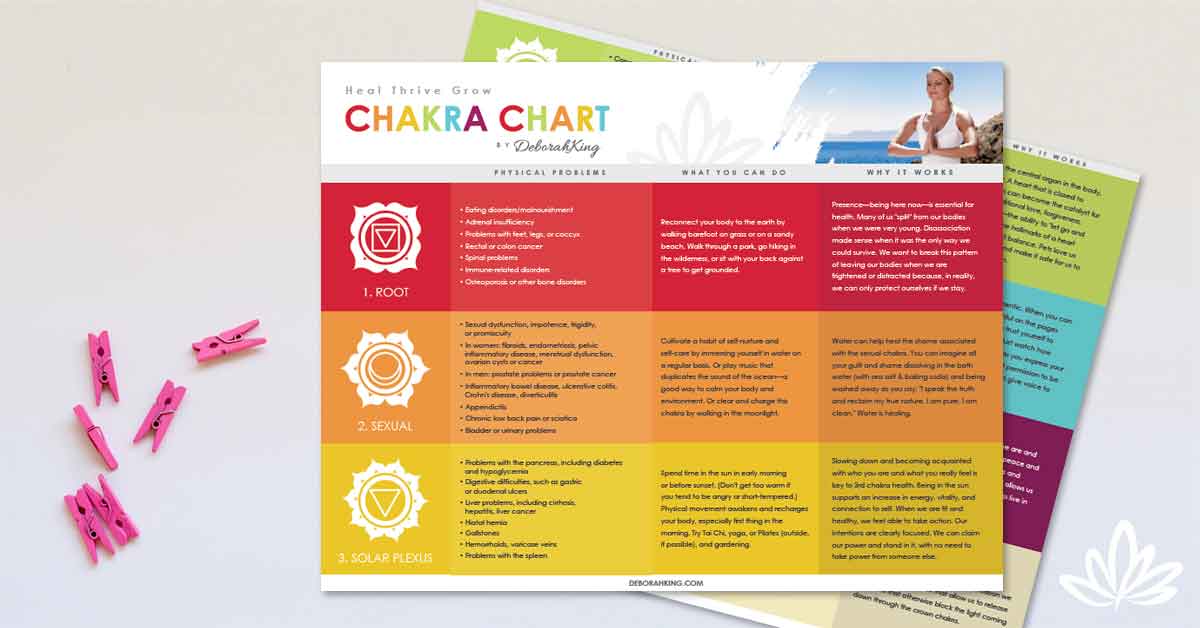 The seven chakras — explained
The word Chakra (चक्र) is derived from the Sanskrit word meaning "wheel," "circle," or "cycle." Each one of us have 7 chakras, which are spinning energy centers that start at the base of the spine and move all the way to the crown of your head.
When each one of your chakras is open and spinning properly (you don't want them to be too open/closed or moving too quickly/slowly), Prana (or qi) — vital life force energy — flows freely and keeps you vibrant, healthy, and alive. However, should your chakras become blocked or unbalanced, energy will be unable to flow freely and openly and you may experience physical problems.
How to use your free Chakra Chart download
In this detailed Chakra Chart PDF, a free gift from New York Times bestseller and spiritual teacher Deborah King, you'll learn how a blocked/unbalanced chakra can manifest in your body through physical and mental symptoms. This easy-to-use full-color Chakra Chart explains each of the chakras (with the corresponding 7 chakra symbols), the physical health symptoms resulting from blocked chakra energy, and what you can do to unblock and clear your chakras.
Whether you are looking for more information on chakras for beginners or are a seasoned chakra energy healer, this Chakra Chart is a perfect quick-reference guide to help you become more in tune with the natural energy cycles of your body — so you can identify chakra problems before they spiral out of control and keep your life force energy centers healthy and fluid.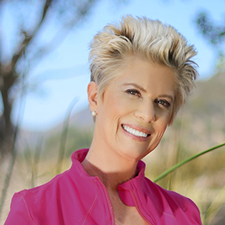 Deborah King is a New York Times bestselling author, popular media personality, spiritual teacher, and the world's leading authority on energy medicine and healing. Through her media appearances, standing-room only speaking engagements, private workshops, books, and regular live online video show, she has taught millions of people how to use energy to heal physical and emotional wounds.
A successful attorney in her 20s, Deborah's life was radically changed with a cancer diagnosis. Reluctant to undergo invasive surgery, she turned to alternative medicine … and experienced an amazing remission at the hands of an energy healer. Along the way, she conquered the alcohol and drug addictions she had used to bury a childhood of emotional and sexual abuse. She realized that ignoring problems and unresolved emotions all her life had led her to the point of turmoil, addiction, and illness. Through her subsequent journey, Deborah learned ancient energy healing techniques, dove into a serious practice of meditation, and transformed her life.
As a writer, Deborah weaves together her own experiences with a willingness to explore the unknown and unexplainable, empowering the reader to create their own prescription for health and happiness. Her New York Times bestselling Be Your Own Shaman, Truth Heals, Entangled in Darkness, and Heal Yourself-Heal the World, take you on a journey into the fascinating world of healers, sages, and shamans, before bringing back ancient wisdom and energy healing practices to treat and cure the ailments readers face in a modern society.
Deborah is a featured contributor in many recognized health and wellness publications, including The Huffington Post, Psychology Today, and mindbodygreen.
© The Deborah King Center, All Rights Reserved
contact_us@deborahking.com • (800) 790-5785